It doesn't matter if you call it football or soccer, nothing changes the fact that this sport is the most popular in the entire world. For this reason, it was only natural for Realtime Gaming (RTG) to develop a slot game based on this theme.
Known as Football Frenzy slots, this game is built to please fans, players, and anyone else who is seeking a good time.
If you enjoy the game of football, it goes without saying that the theme will suit your fancy. Everything about it, from the graphics to the reel symbols, is based on the game itself.
The Way You Play
RTG is all about making life easy on its players, which is why the Football Frenzy slot machine is simple to play and understand.
The 5×3 reel grid, 50-payline configuration is one of the standards in the online casino world, meaning that you won't be tricked by what you see on your screen.
You can play anywhere from one to 50 paylines, so make sure you have an idea of your budget before you sit down to spin the reels. Adding to this, you have the option to wager anywhere from a penny to a quarter per payline, making the maximum bet $12.50 per spin.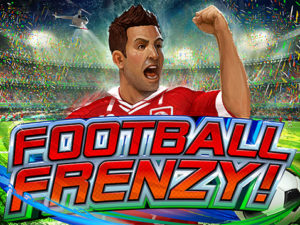 It's not exactly a high roller game, but it's a nice fit for low to medium budget players.
Bonus Features Worth Cheering
Have you ever played an online slot machine with bonus features that are less than exciting? Sure, they're available, but they don't do much to get your blood flowing.
Well, being that this machine is based on the game of football, you shouldn't expect this type of experience. Instead, you'll be cheering the action from beginning to end.
Some of the bonus features include:
Penalty Kick bonus. When you collect a bonus ball symbol on all five reels, you're taken to this game. Your job is simple: make as many free kicks as possible, as this will increase your multiplier. In the event that the golden ball appears, you're given the chance to score it for the opportunity to triple your payout.
Scatter symbol. The stadium symbol acts as the scatter, with three of these triggering eight free games. Even better, if you collect five, you could be awarded with 100 free spins.
Wild symbol. Acting as the wild, the striker can substitute for others to help form winning combinations. Using one of these to win means your payout will be doubled.
There's nothing complicated about these Football Frenzy slot machine bonus features. They're nothing more than easy to understand, good old fashion bonuses.
The Game of Football
This isn't the only slot machine based on a sport, with others, such as 8 Ball and Let's Go Fish'n, cut from the same cloth.
What this game does have going for it, however, is the fact that it's based on the most popular sport. And that's why the machine has become such a big hit.
Here are some things you may not know about the game of football:
These aren't things you need to know in order to play Football Frenzy via the internet, but the information will help you better understand the game as a whole.
Final Word on the Football Frenzy Slot Machine
Sports inspired slot machines have always been popular. This is especially true among games that are played in every inch of the world, such as football.
The SlotsJack team loves this machine for many reasons. The theme is the most obvious reason, but don't overlook the excitement associated with the bonus features.
Finally, keep this in mind: Football Frenzy slots can also be played for free online.