Everyone loves breaking into a fortune cookie from time to time, which is why Microgaming decided to bring this theme to the casino.
With Fortune Cookie slots, you never know when luck will be on your side. Playing this 3-reel game will put a smile on your face, especially if you are adding money to your account.
As you spin the reels, there are nine distinct ways to win. Along with this, with only one payline, you never have to worry about being confused. Instead, you can set your focus on the single payline, cross your fingers, and hope that a winning combination pops up on your screen. There is no guesswork with this game.
A Throwback Slot Machine
Many of today's slot machines are full of modern features. While these games can be extremely fun to play, there are times when you would rather "kick it old school." And that's exactly what you get when you choose this game.
Unfortunately, many players shy away from this game because of the basic setup and lack of advanced graphics. 3D graphics and top quality sound are cool, but that doesn't mean a game without these things are a waste of time and money.
Thanks to the basic approach combined with high level features, many new players flock to Fortune Cookie slots.
As you would expect, reel symbols are also traditional. These include: BARs, 7's, and cherries among others. And of course, it's the Fortune Cookie symbol that gives you the chance at bigger winnings (more on this below).
How to Win at Fortune Cookie Slots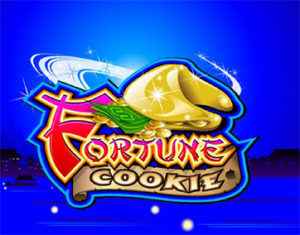 If you're playing this game with real money, you have the option to wager one or two coins. Either way, you have the opportunity to win a lot of money. But of course, just like every slot game, the more you wager the greater your potential return.
With one coin wagered, here are the nine winning combinations and the payout:
1x Cherry – 2x your wager
3x Any Bar – 3x your wager
2x Cherry – 5x your wager
3x Single Bar – 10x your wager
3x Cherry – 20x your wager
3x Double Bar – 25x your wager
3x Triple Bar – 50x your wager
3×7 – 100x your wager
3x Fortune Cookie logos – 800x your wager
Note: if you wager two coins, the paytable above is doubled. So, for example, 3x Fortune Cookie logos would lead to a payout of 1,600x your wager.
While the game itself may be basic and to the point, the paytable proves that the payouts are anything but that. There is some serious money to be had if good fortune is on your side.
Win More with the Wild Bonus Feature
Base gameplay is where you'll spend most your time, but Microgaming snuck in this bonus feature to add some excitement.
The Fortune Cookie logo acts as a wild, meaning that it can substitute for any other as a way of completing a winning reel combination. Even better, when it is part of a winning combo, your payout is multiplied by 2x or 4x.
As you play Fortune Cookie slots, you'll see this bonus symbol popping up every now again. And when it does, your chance of winning is much greater.
Play Online for Free
When you opt to play a Microgaming slot machine, you won't have to look far to find an online casino that provides the experience you are craving.
With so many ways to win and the ability to hit for up to 1,600x your wager, it's only natural to gravitate towards real money games. However, there may be situations in which a free Fortune Cookie slot machine is right for you.
Playing for free is a good idea if:
You don't want to bet your own money.
You want to play for fun and don't care about winning real money.
You want to learn more about the game before wagering real money.
For instance, you could spin the reels for free in an attempt to better understand the game and formulate a strategy. Once you are comfortable, you could then use real money for the chance to hit it big.
Experiment with this Game
There is more to Fortune Cookie slots than what you read here, which is why we suggest you play this game online before formulating your own opinion.
It doesn't have the same level of features as other Microgaming machines, such as Tomb Raider, but that shouldn't stop you from playing.
The easy to understand layout, crazy fun theme based on an interesting treat, varied paytable, and wild bonus feature should be enough for you to experiment with Fortune Cookie slots.