Would you expect anything less than a good time from a slot machine entitled Fortune Firecracker?
You may be thinking that it's similar to every other Asian themed slot game, but nothing could be further from the truth. As you read this review, you'll soon find that it's unique in many ways – and that's a good thing for players seeking something different.
There's a lot to learn about Fortune Firecracker slots, and we'll get into the finer details below. However, let's start by examining a few basic details that will put you on the right track:
Developed by Aristocrat.
Provides a variety of bonus features for increased winnings and more enjoyment.
The ability to play online and at brick and mortar casinos.
With a 5-reel, 25-payline configuration, the game lays out in the same manner as White Wizard (among other machines). But even with this similarity, there are enough unique features to keep you engaged.
Get Lucky Today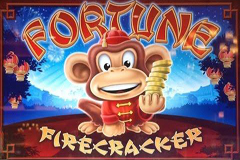 If you're seeking good fortune on your next trip to the casino, don't look any further than this game. There's no such thing as guaranteed success, but Fortune Firecracker always delivers on its promise of a good time.
Any win is a good win, but playing this machine means one thing: hoping and wishing to activate the 2,000x multiplier. If this happens, your payout will immediately reach heights that you have only dreamed of.
What about a scatter symbol? In true Aristocrat fashion, there is a powerful scatter (group of fortune cookies) that triggers the Mega Pay feature and immediately puts you in position to win a massive pile of cash.
The Bonus Round
If you're hoping to change your fortunes for the better, the bonus round is probably a good place to start. With 15 free spins, you don't have to wager your own money.
As you spin the reels for free and collect your winnings, keep an eye out for the red envelope symbols. These are used to release extra reel sets with wild symbols that help you form more winning combos. Here's some more information:
9 to 13 red envelopes: there are three sets of reels with all symbols on the fifth reel turning wild.
14 to 29 red envelopes: there are four sets of reels with all symbols on the fourth and fifth reels turning wild.
30+ red envelopes: there are four sets of reels with all symbols on the third, fourth, and fifth reels turning wild.
Note: here's a cool video of a player winning big during the bonus round.
Many Ways to Win
One of the best reasons to play a Fortune Firecracker slot machine is the many ways to form a winning combination.
On the low end, three 9 symbols on a payline pays 5x your wager. As you make your way up the paytable, here are some other winning combinations worth noting:
5 Chinese lantern symbols on a payline pays at 700x.
5 cymbal symbols on a payline pays at 1,000x.
5 toy monkey symbols (wild) on a payline pays at 2,000x. Even with two of these symbols your bet is multiplied by 25x.
While these combinations are good for some of the biggest payouts, there are many others you can form to keep the wins flowing.
SlotsJack Approves of Fortune Firecracker Slots
We are of the belief that every slot machine on the casino floor is worth playing at least one time.
If you're thinking about playing Fortune Firecracker, either online or at a casino, the SlotsJack team is excited for you. Even when you don't win a lot of money, the experience is always enjoyable.
We'll leave you with a few of our favorite reasons to play:
The red envelopes feature gives you the chance to quickly boost your winnings.
The free spin bonus round is one of the most exciting you'll come across.
There are plenty of ways to win during base gameplay.
If you're presented with the opportunity to play this slot machine, you may want to take full advantage. It could be just what you've been looking for!