Slot game companies often create machines based on mythology, as these themes have a way of engaging a large number of players.
Aristocrat has taken this approach time after time, with the Fortunes of Atlantis slot machine a good example of this.
Based on the Lost City of Atlantis, you can only imagine how exciting this theme can be. But guess what? Once you spin the reels a few times, you'll realize that there is more to the game than you previously thought.
If you want to learn more, including the details and how to play, let this review be your guide. After all, any game with the word "fortune" in the title is probably one you should consider.
Explore the Details
For years, people have been searching for the Lost City of Atlantis. While some consider this nothing more than a myth, others believe that it existed at some point in time.
You may never find yourself searching for the city itself, but that shouldn't stop you from playing Fortunes of Atlantis slots.
With this game, there are five reels to guide the action. Don't concern yourself with traditional paylines, as that's not how this machine is played.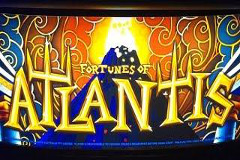 Instead, you can form a winning combination regardless of where the symbols land on the screen. Subsequently, you are presented with 243 ways to win.
Not only does this approach improve your chance of winning, but it also makes it easier to get started. Since there are no traditional paylines, all you have to do is select your bet and spin the reels.
The amount of money you can win is based on the amount of your bet, as well as the symbols you collect (more on this in the next section). If you're feeling lucky, if you've hit the casino floor because you want to win big, don't shy away from making a larger than usual wager.
Big Payouts are there for the Taking
For many, choosing to play a Fortunes of Atlantis video slot game comes down to one thing: whether or not they can win a lot of money.
You don't have to worry about that here, and you'll soon realize why after you learn more about the paytables.
Many Aristocrat offerings have two paytables, with this one taking the same basic approach.
On one, you'll find the winning combinations for playing card symbols. For example, five jack symbols can lead to a nice payout.
The other paytable is more unique, as this is where you'll find symbols associated with the theme. From a ship to a crown, become familiar with these symbols and how much they payout. This way, as the reels spin, you know what you're looking for.
These Symbols will Treat You Right
Make no bones about it: any time you win you should be happy. That said, some symbols put you in position to take home more money.
The dark pyramid symbol is mystical. It's also the one that acts as the wild, allowing it to replace any other.
The coin symbol also does big things, as this is the one that leads you to the bonus round. All you need is three of these to receive 15 free spins.
Note: during the free spin game, the wild symbol can award a multiplier. When this happens, don't be surprised when your payout instantly skyrockets.
We should also make mention of the famous Aristocrat Super Feature, which can pop up at any time. If it does, the reels expand and you're granted the opportunity to win in one of 1,024 ways.
Lost City of Atlantis Facts
At SlotsJack, we enjoy providing background information on games that require some explaining.
If you want to learn more about Atlantis, visit the Wikipedia page on this subject. Some of the things you want to remember include:
There are many theories that Atlantis was not a myth, but instead the "real thing."
Most people who believe in Atlantis agree that it was located in the Mediterranean Sea. However, there are other theories that place it in the Atlantic Ocean and in northern Europe.
Atlantis has been depicted in many songs, paintings, television shows, and movies.
These are just a few of the more interesting facts associated with this myth. These details have nothing to do with the slot machine, but they can help you understand the theme itself.
Final Thoughts
There are several things to like about the Fortunes of Atlantis slot machine, including the one-of-a-kind theme. Other details we enjoy include:
The use of unique graphics, animation, and audio.
The inclusion of several bonus features, including the Super Feature.
The potential for huge wins.
Aristocrat has never been afraid to think outside the box, with this game yet another example of its innovation.
Once you play, don't hesitate to contact us and share your experience. We'd love to hear your thoughts on this game.