Realtime Gaming (RTG) takes great pride in developing online slot games with a stable environment, many ways to win, and of course, plenty of action.
With a similar name to Football Frenzy, Fruit Frenzy will keep you on the edge of your seat as the action unfolds before your eyes.
With a fruit theme, the game brings back memories of traditional slot machines. But once you spin the reels, you'll see that it's more advanced than you ever imagined possible.
Affordable and Free Action
One thing that you may not expect from the Fruit Frenzy slot machine is the ability to get started for as little as a single penny.
With a 5×3 reel grid, combined with 25 paylines, there are many ways to play and win. If you want to wager more than a penny, you can place a bet on as many as 25 paylines. Even better, you have the option to wager anywhere from a cent to $.25 per payline.
With some basic math, this shows that the maximum wager is $6.25 per spin. It's not a high roller game by any stretch, but the max bet is more than enough for you to become fully invested in the outcome.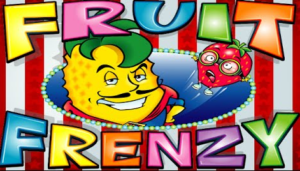 If you don't consider a penny per spin affordable, you can always play Fruit Frenzy online for free. This means you can spin the reels for fun, allowing you to focus on nothing more than the smile on your face.
Things to Know About Fruit Frenzy Slots
You already know that Fruit Frenzy is affordable (or free). Now, it's time to focus on the many ways you can win as well as the extra features that have made it a hit.
Since there's only so much you can say in a review, we're going to stick to the most important details. Here they are:
You can win anywhere from 100x your payline wager to 2,000x your initial wager for collecting like symbols on the same line. The top prize is awarded for five clown oranges.
There are two scatter symbols: frenzy and fruit. The frenzy symbol is good for a 100x multiplier, with the fruit awarding 200x.
Five of the same symbols on a payline trigger the Daredevil bonus. This is a free spin feature that also provides a 2x multiplier.
If these details get you excited (and even if they don't), there's still something else to remember: the random progressive jackpot is always accumulating value.
This is awarded after any spin, win or lose, with the jackpot often reaching $3,000 or more.
It's not the largest progressive jackpot, especially when compared to land based machines, but it's a nice addition to an RTG game that can be played for a single penny.
A Powerful Experience
The Fruit Frenzy online video slot machine can be described in many ways. We like to use two words when talking about the game: fun and powerful.
The excitement speaks for itself. And of course, you know that every RTG game has powerful features meant to attract a variety of players.
If you like the idea of combining the old school approach of fruit based slot machines with modern features, you may have found the right game for you.
At SlotsJack, we can't say enough good things about Fruit Frenzy. It doesn't do everything right, but it's pretty solid across the board.