With each passing year, Realtime Gaming (RTG) continues to amaze players who are looking for the "next big thing" from the slots industry.
In 2017, it's the Fucanglong slot machine moving to the forefront. Although there are many Chinese inspired games available for online and land based play, this one is something special for a variety of reasons.
To start, there is more to the theme than meets the eye. Instead of the same old approach, this one is based on the Fucanglong, a Chinese underworld dragon staffed with the responsibility of guarding treasure.
While you may be concerned about this beast standing in your way, there are a variety of ways to sneak past it on your path to big winnings.
What to Expect
When you play any game developed by RTG, you expect an exciting theme, stable environment, plenty of ways to win, and a few extra features. Fucanglong slots provide all of this, plus so much more.
To start, the 5-reel configuration is one that most players are familiar with. Where things get interesting, however, is the payline configuration. Rather than a traditional approach, there are 1,024 ways to win.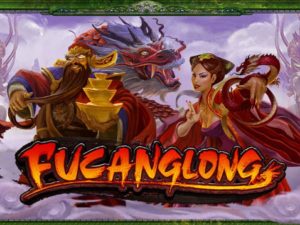 Moving on, you should expect nothing but the best in regards to the graphics. This is one of RTG's newest games, so you can fully expect it to be more advanced than those that were released in the past. Remember, the company has been developing internet slots for nearly 20 years. For this reason, its approach to graphics, animation, and audio has greatly changed (for the better, of course).
A Beautiful Theme
We can't say enough good things about the theme of the Fucanglong online slot game. From the reel symbols – including everything from dragons to treasure chests – to the color scheme, you won't be disappointed with the theme.
Note: watch this video for a closer look at the theme and how it compares to the competition.
Features
We've talked a lot about the visual appearance, but now it's time to focus on the features.
With 1,024 ways to win, you can be confident that you'll add money to your account every now and again. There's no guarantee, but there's typically something good waiting around the corner.
There is both a wild and scatter (two of these) symbol, which isn't much of a surprise considering that this is something RTG always uses in its games. The wild can appear on four of the five reels, giving you a good chance of finding one of these.
There are also two scatter symbols, with each one responsible for taking you to a free spin bonus feature.
For example, the dragon mountain scatter takes you to the free spin game that shares an identical name. Not only can the multiplier reach 8x, but there is a retrigger feature that can keep you in the bonus game for an extended period of time.
The dragon pearl symbol is the other scatter. Once again, it shares its name with the bonus game it triggers. With this, you can activate a multiplier of up to 888x (more on this below). There is no retrigger feature, but if you don't receive a payout the game will automatically award bonus spins.
Note: the highest payout during this bonus round is 888x your initial wager. This isn't as big as the 38,073x multiplier of the Nova 7's slot game, but it's still massive when compared to most.
Go Mobile, Play for Free
We've discussed many features and benefits, but there are two others that you don't want to overlook.
First off, you can play the game via your desktop/laptop computer or a mobile device. This isn't the case with all RTG offerings, especially those that were released before the mobile revolution took off.
Designed for both iOS and Android powered smartphones and tablets, this gives most players another way to spin the reels. For example, it makes it easier to play while you're away from home or the office.
Secondly, you can play free Fucanglong slots online. You read that right: you don't need real money in order to get started.
The free version of the game is sure to attract players who:
Don't have the stomach to wager real money.
Would rather play for fun.
Are not permitted to play real money slot machines via the internet.
Have the desire to learn more before spinning the reels.
Most of the casinos that offer this game give you the opportunity to choose between the free and real money version.
The Future is Bright
Although the Fucanglong slot machine is one of the newest RTG releases, it is already beginning to pick up steam.
It's easy to see why it's so popular. The theme, albeit similar to some others, is able to stand on its own two feet. Along with this, the 1,024 ways to win has a way of attracting a large number of players.
When you add in the mobile friendly design and the ability to play for free, you have a game that will shine bright for many years to come.