When it comes to bringing together slot machine games and popular culture, no company does it better than Aristocrat. This is evident once again with its release of Game of Thrones.
Note: the Aristocrat version of this game is available for play in land based casinos only. If you want to play online, you'll need to search for the Microgaming version.
Go back in time many years, and you'll find that Game of Thrones is based on a popular series of fantasy novels by George R.R. Martin.
However, things changed forever when the novels were adapted for a television series. Once premiering in 2011, it didn't take long for the show to pick up steam among audiences around the world.
In the latter part of this Game of Thrones slot machine review, we'll discuss some of the finer details of the television series. But for now, let's get down to business and discuss why this casino game is such a big hit.
Play a Game for the Ages
Every so often, a slot machine comes around that's head and shoulders above the rest of the industry. At this point, it's easy to see that Game of Thrones is one of these.
Much the same as other games, such as Britney Spears slots, Aristocrat did a perfect job of bringing the theme to life.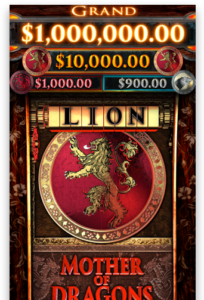 The company discusses this in great detail on its website, noting the following:
The use of symbols that match the action of the television series.
The implementation of "second to none" sound effects, graphics, and audio.
Four level progressive.
Adding to all this, it's made available through the famous Arc Double cabinet. With this, you never have to worry about the action slowing down.
There's More to Know
Are you excited at the idea of playing Game of Thrones slots? If so, you may be ready to hit a local casino right now. But before you do this, let's talk a bit more about the game itself.
To start, there are two things you need to know:
There are five reels.
Game symbols include everything from weapons to wolves and much more (they all match the TV series).
Moving past this, there are bonus features that heat things up. What do you think about winning a batch of free spins? How about the use of a wild symbol to improve your odds of winning?
Or maybe you pray you'll enter one of the bonus rounds, which include:
Mother of Dragons
Blackwater Bay
The Wall
These bonus rounds are difficult to come by, but once you gain entrance the action is hot and heavy.
The Mother of Dragons Bonus may be the most exciting, as it packs a big punch in a short period of time. A dragon comes flying towards you, leaving nothing but bonus symbols behind.
Of course, the Blackwater Bay bonus game has its own unique features. With this, you win free spins complete with a sticky wild feature.
Last, but definitely not least, The Wall bonus is also built on the premise that players love free spins (and they do).
What is Game of Thrones?
In the introduction, we provided basic information in regards to Game of Thrones. Now, we want to dig deeper to help you understand why this theme was such a good choice.
Game of Thrones is filmed in locations around the world, including but not limited to Canada, Iceland, Spain, United Kingdom, and United States. This helps the casino game attract a worldwide audience.
The television series is well known for its visual effects and sound.
Game of Thrones is broadcast by HBO, but fans of the show can purchase past seasons on DVD and Blu-ray.
Adding to this are its many awards. Get this: Game of Thrones has won 38 Primetime Emmy Awards. Along with this, it has taken home multiple Golden Globe Award nominations for Best Drama Television Series.
Final Thoughts
By now, you probably know more about Game of Thrones slots than most people. This doesn't mean you'll win every time you play, but it does mean you'll know exactly what's going on as you spin the reels.
At SlotsJack, we're suckers for games based on famous television shows. In our opinion, Game of Thrones is one of the best in this category.
We enjoy the theme, we like the setup, and we love the bonus features. Add this to a four level progressive, and what you have is a game that is second to none!