Do you know what the word "geisha" means? In short, this is a Japanese woman who entertains people with a variety of skills, such as dancing, music, making conversation and much more.
Aristocrat, being one of the most forward thinking slot machine developers in the world, decided to create a game based on this theme.
Note: Geisha is often bundled with many other slots, including Buffalo and 5 Koi among others.
With the ability to play in land based casinos, online, and via a mobile application, it's easy to see why it's become and remains a popular choice.
If you want to play with real money, you can do so online or at a land based casino. However, if you'd rather play a Geisha slot machine for free, you can go down this path as well.
Game Details for Players
Most players immediately take notice of the 5-reel, 25-payline configuration. This is simple to understand, while also making it easy to place the wager that best suits your budget.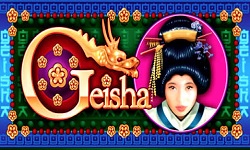 Along with this, you'll also notice three other things about Geisha slots:
It is one of the most colorful you'll ever come across, which helps to keep you engaged for a longer period of time.
The graphics and animation go hand in hand with the vibrant colors.
The audio is not overpowering, but it's more than enough to provide a unique playing experience.
You'll never confuse this machine for one of the most advanced online or land based casino offerings, but that's not a bad thing. In fact, the simplicity is one of its top features.
Exciting Bonus Game and More
Up to this point, we've talked a lot about how basic a Geisha slot machine truly is. Now, it's time to take things up a notch. We want to discuss some of the more advanced features, which includes the free spin bonus game.
There's a lot going on as you play, with plenty of animation every time you hit a winning combination. While this can be both fun and engaging, you may spend most your time waiting to collect three or more gateway symbols.
Here is why: these symbols on the same payline lead you to the free spin game.
Three gateway symbols award five free spins.
Four gateway symbols award 10 free spins.
Five gateway symbols award 15 free spins.
Although the free spins game by itself is exciting, there's something else you should think about: during this round, any win is automatically multiplied by 3x.
Note: a re-trigger feature is also in place, meaning that three or more gateway symbols during a free spin will award you more of these.
How to Play Geisha Slots: A Strategy
Let's face it: there is no way to guarantee success when playing a slot machine. The best you can do is choose your game, make your wager, and enjoy yourself. If you win along the way, you're level of excitement is sure to go through the roof.
Rather than provide a concrete strategy for winning, which doesn't exist, we're going to discuss a three step process for playing the game:
Decide if you'll play Geisha slots for free or with real money. Remember, you can play with real money online and in local casinos. The minimum wager is $.25.
Start slow to ensure that you understand the finer details of the game. There are a few things you want to learn, and to be honest, the theme itself can be a bit distracting.
If possible, continue to play until you reach the free spin bonus round. Again, this doesn't guarantee a win, but it definitely improves your odds.
Aristocrat often creates videos for its new games, and Geisha Legends was no different in 2013. Watching the video will give you a clear idea of how to play, what the symbols look like, how the bonus round works, and potential payouts.
Our Detailed Review
We don't want you to become so bogged down with details that you never give this game a chance. As one of the easiest games to understand, you shouldn't be intimidated at the thought of sitting down and spinning the reels.
Even if you don't remember anything above, here are three details of a Geisha slot machine to always keep in mind:
The animation, graphics, and audio can't be beat.
The free spin bonus round has many features, including a multiplier and re-trigger.
You can play online for free, if you're more comfortable doing so before wagering real money.
The unique theme will draw you in, but the features of Geisha will keep you around!