As scary as it sounds, the Ghost Ship slot machine by Realtime Gaming (RTG) provides a thrill a minute.
Although the theme is based on ghosts, there's nothing to be worried about. In fact, it has the same basic layout and payout structure as other popular RTG online slots, including the powerful Fruit Frenzy.
It doesn't matter if you believe in the power of ghosts or consider this a myth, nothing changes the fact that this online game is among the best.
While many people spin the reels with the idea that they won't enjoy the theme, something strange often happens: they find that it's quite appealing. Could this happen to you?
A Straightforward Experience
Ghost Ship slots are simple to play. Here are a few details to guide you:
You will choose to play anywhere from 1 to 25 paylines.
You can wager anywhere from a penny to $6.25.
If you're on a budget, you can turn this into a penny slot game to ensure that your money lasts as long as possible.
Conversely, if you're willing to wager more money, you can opt for the max bet with each spin.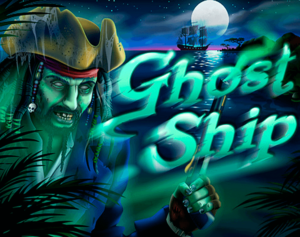 If real money online slots don't suit you for any reason, Ghost Ship can also be played for fun. This means two things: you aren't wagering real money and you can't win anything in return.
Many people gravitate towards free Ghost Ship slots, especially those who want to learn more about the machine before taking a risk.
Note: RTG is well known for its mobile games, and Ghost Ship fits this mold. You can play it on any mobile device, including those powered by both the iOS and Android operating systems.
Features Lead to Fortunes
Base gameplay provides many opportunities for winning, meaning that every spin will have you wondering what will come next.
With many ways to win, don't be surprised if you find yourself pulling in smaller awards on a regular basis. While these aren't always exciting, they're more than enough to keep you playing.
The ghost ship symbol is one worth mentioning, as this can make its way onto the screen at any time. With this, you can receive a payout of 100x your initial wager. Not to mention the fact that three or more will lead you to the free spin bonus.
With five of these triggering the bonus, all your free spin payouts are multiplied by 10x. This is what makes this feature the most exciting offered by the game.
Two Random Progressives
Any slot machine win is better than a loss, but there's nothing more exciting than taking home a progressive jackpot.
Fortunately, you can win one of two progressives. Known as the "minor" and "major," each one is large enough that you'll find it difficult to think about anything else.
Generally speaking, the minor progressive is $1,000 or less. The major, on the other hand, often reaches $6,000 or more.
The SlotsJack Review
We don't want you to be scared by the theme of this game. Instead, we want you to be excited about everything it offers.
RTG has a way of developing games with unique themes, which can be seen in every feature displayed in the Ghost Ship slot machine.
Our team enjoys everything about the theme, as it's not something that you come across often. Along with this, there are three other things we've fallen in love with:
The powerful free spin bonus feature.
The flexible betting options, including the ability to play for free.
The use of two progressive jackpots.
Do you agree that these features are just a few that make Ghost Ship a player favorite?