When you go back in history, you'll find quite a few pirates known for making off with millions of dollars in treasure.
While these pirates were millionaires in their day, they have nothing on Goldbeard, the pirate at the center of this Realtime Gaming (RTG) slot machine.
As a pirate themed game, you can imagine the types of symbols and graphics you'll come across. Add this to a variety of bonus features and plenty of ways to win, and you have a game that is attractive to all types of players.
It's time to learn more about the Goldbeard slot machine, a game that can be played online for free or with real money.
Developed for All Players
It's safe to say that most people don't have what it takes to become a real life pirate (which is a good thing), but that won't stop you from sitting down and spinning the reels.
You can choose to play anywhere from 1 to 20 paylines with each spin, giving you an extreme amount of flexibility. Along with this, bets range from a penny to a quarter.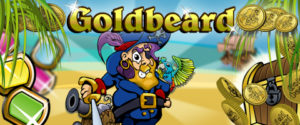 With this arrangement, you can play for a minimum bet of $.01 or a maximum bet of $5. If neither of these suit your style, choose an option that lies somewhere in between.
Note: there is also a free version of Goldbeard slots. With this, the game never asks you for a single cent. Instead, you're playing for nothing more than the thrill of the game.
Search for Treasure
As you play Goldbeard slots via the internet, you'll soon find that your goal is simple: to collect as much treasure as possible.
For example, you can win 1,000 credits for collecting five parrot symbols. Even better, your payout reaches 2,000 credits if you're lucky enough to come across five ships on the same active payline.
Base gameplay will always keep you engaged, but it's the bonus features that add the excitement you're seeking as a player.
For example, Goldbeard himself acts as the wild symbol. This appears on the first and fifth reel, and is able to replace all others for the chance to form a winning combo (and double your payout).
If you're lucky enough to land this symbol on the first and fifth reel on the same spin, you're awarded two, three, or four free spins. Every award is tripled during this bonus.
The Goldbeard Slots Progressive Jackpot
What would a pirate inspired slot game be without a big progressive jackpot?
This isn't the only RTG game with a random progressive, as others, including God of Wealth, have the same basic setup.
Even so, this is a great addition to an already exciting game. The progressive goes up and down based on how many people are placing wagers and when it was last won. You can typically expect it to be north of $1,000.
Don't Stop Your Search for Fun and Money
Go back in time several hundred years and pirates devoted all their time to finding treasure. They may have enjoyed this activity, but it goes without saying that it wasn't always fun.
With the Goldbeard slot machine, you get the best of both worlds. You can enjoy yourself every step of the way, all the while having the opportunity to win during base gameplay or a bonus round. And of course, the progressive jackpot is always there for the taking.
The SlotsJack team enjoys a good pirate movie as much as the next person, but these films don't stand a chance when compared to the joy of playing this slot machine.