A takeoff on the famous Led Zeppelin song, Stairway to Heaven, this Realtime Gaming (RTG) slot machine has never found it difficult to attract a large number of players.
With its fairytale theme, Hairway to Heaven slots is as mystical as they come. Plus, as one of RTG's newer games, it has all the advanced features you've come to love.
WMS Gaming has a similar game, known as the Alice & The Mad Tea Party slot machine, which is every bit as popular among fans of this company. Just the same, this is due in large part to the theme.
Where the Action Begins
You don't need much knowledge to get involved, but it's good to have a basic overview of how to play. With so many features and a variety of betting options, you don't want to take the risk of spinning the reels when you don't fully understand what's going on.
Let's start with the layout: there are five reels and 50 paylines, making it a bit more robust than some other games in the RTG lineup. Even if you're most familiar with 20 or 25 payline games, you shouldn't have much trouble catching on.
Where things get a bit tricky is when you have to make two key decisions:
How many paylines will you play?
How much money will you wager on each payline?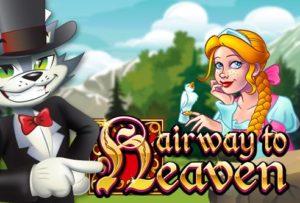 In regards to the paylines, you can choose anywhere from one to 50. From there, you can choose one of the following wagers for each one:
$.01
$.02
$.03
$.04
$.05
$.06
$.07
$.08
$.09
$.10
$.25
At the absolute minimum, you can wager $.01 on one payline. The maximum, however, allows you to bet $12.50 every time you spin the reels.
It's not exactly a high roller slot machine, but $12.50 isn't peanuts either.
The Option to Play for Free
Do you enjoy everything about Hairway to Heaven except the requirement of betting real money? If so, you're in luck. You can play for fun, with many types of people opting to do this.
There are those who aren't permitted to play real money online slots in their country. There are also those who want to learn more before they take the leap. And of course, there will always be players who don't care about winning, but are instead looking for nothing but a good time.
You may not be interested in playing for free right now, but it's nice to know that the option is always there if you change your mind.
Playing to Win and Bonus Games
Nobody plays the Hairway to Heaven video slot with the idea that they're going to lose. Instead, everyone has his or her sights set on something big.
With payline bet multipliers ranging from 5x to 2,500x, you can be rest assured that the opportunity for a big payout always exists.
While base gameplay multipliers give you the chance to add big money to your account, it's the bonus features that make the game what it is.
Here are some things you need to know:
Rapunzel is the wild symbol, with this beauty appearing on the third reel and substituting for all others. Also, when the wild is used to form a winning combination, the payout is doubled.
The prince is the scatter symbol. With three or more of these on your screen, you're prompted to select an icon that will take you to one of three distinct bonus games.
Each bonus game provides a variety of unique features. As you experience each one, you may soon find yourself closing in on a favorite. The bonuses include:
Princess Pays. You're awarded 10 free spins, with all wild symbols tripled in value. If the wild lands on the third reel, another free game is added to your collection.
Damsel in Distress. You're awarded eight free spins, with the wild symbol on the second, third, and fourth reels.
Hairway to Heaven. Named after the game, you're given 5, 7, 10, 15, or 20 free spins. The best thing about this feature is the multiplier, which reaches as high as 20x on the 20th free spin.
There are other RTG games with bonus features, but not many that have three like this.
Reel Symbols
You don't have to memorize the paytable, but it never hurts to become familiar with the reel symbols:
9
10
Jack
Queen
King
Ace
Key
Mirror
Picture Frame
Guard
Tower
On the low side, two identical key or mirror symbols award a 3x multiplier. As you move to the top of the paytable, you'll find a 2,500x multiplier for five tower symbols.
Chase a Progressive
Even if you're overwhelmed by the opportunities presented in base gameplay and the bonus games, you shouldn't overlook the ability to win a progressive jackpot.
There is both a minor and major jackpot. The minor is the smaller of the two. It's also the easiest to win. Generally speaking, this sits somewhere between $500 and $1,000.
The major is much bigger, albeit more difficult to win. Don't be surprised if you see the value of this jackpot reach $5,000 or more every now and again.
SlotsJack Says Go!
Just when you think Realtime Gaming has done it all, the company comes up with another game that knocks your socks off.
The Hairway to Heaven slot machine doesn't leave much to be desired. The Rapunzel fairytale theme, when combined with a variety of high level features, does wonders for the bones of the game.
Other things that we enjoy include:
Many ways to win, including a top multiplier of 2,500x during base gameplay.
Three bonus games, all with a unique look, feel, and feature set.
High quality graphics with a fun and friendly tone.
It's these details, among others, that have had us excited about Hairway to Heaven from the first day it was released.