Realtime Gaming (RTG) must have a special place in its heart for hillbillies, as the company has used this theme to develop two unique games.
In addition to the original Hillbillies slot game, it has also created Hillbillies Cashola.
As you spin the reels and become involved, you'll find that everything is related to hillbilly culture in some way, shape, or form. For example, reel symbols range from hillbilly characters to moonshine (and that's just the start).
In addition to a variety of betting options, you can play via your desktop computer, laptop, and even your mobile device. It's compatible with both iOS and Android smartphones and tablets, making it available to a large audience.
Spin the Reels
The 5×3 reel grid is nothing special, with this configuration commonly used in most RTG games. The same holds true of the 20 paylines.
You can play a minimum of one payline, a maximum of 20, or any number in between. With each one, you can wager between a nickel and a quarter. This works out to a minimum wager of $.05 or a maximum of $5.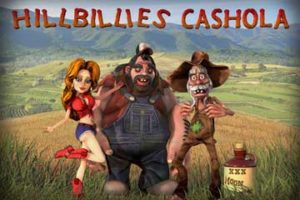 The Hillbillies Cashola slot machine can also be played for free, with this becoming a popular choice among players who are only interested in the experience.
More than a Mountain Theme
The theme alone is enough to put a smile on your face, but don't forget one thing: the real fun begins when the reels start spinning.
On the low end, you can win 125 coins for collecting a pair of 10, jack, queen, king, or ace symbols. As you make your way to the unique reel symbols, those associated with the theme, the prizes get bigger. For example, the bloodhound symbol pays as much as 250 coins.
While all wins should be celebrated, one with a hillbilly wild symbol will have you hooting and hollering. Here's why: your payout will be multiplied by 20x.
Two or more hillbilly symbols award eight free spins, with any win during the bonus game doubled.
A Progressive Too!
Now that we've talked about the theme, base gameplay, and a few bonus features, let's examine one of the most intriguing things about playing: the progressive jackpot.
The value of the jackpot is always displayed above the reels, giving you an idea of what you can win if luck is on your side.
Randomly awarded after any spin, don't be surprised if you see the value reach $2,500 or more. It's a small progressive when compared to the industry as a whole, but it's also one that all players would love to win.
Top Reasons for Playing Hillbillies Cashola Slots
At SlotsJack, we find the theme of this game to be hilarious. The reel symbols are set on a mountain background, making sure you never forget what game you're playing.
There are three other things we really like about Hillbillies Cashola online slots:
The progressive jackpot can grow and grow, reaching five figures at times.
Base gameplay payouts are higher than average, allowing you to feel good about your chances of walking away with more money than when you started.
It provides a variety of betting options, suiting low budget players as well as those who are willing to take a bigger risk.
And of course, there's one last thing to like about this RTG game: the option to play for free. It's not something that suits the style of every player, but it does appeal to a large number of people.
What do you think? Will you join in on the hillbilly fun?