Most people never experience the thrill of striking oil, but that doesn't make this game any less desirable.
The Hillbillies slot machine, although similar in theme with Texas Tea from IGT, is a unique game that stands out among hundreds of others from Realtime Gaming (RTG).
With a Beverly Hillbillies inspired theme, you can be rest assured that a good time is always front and center. If you're lucky enough to add some winnings to your experience, you'll walk away from this machine realizing that it's one of your favorites.
No Need to Be Rich to Play
One of the biggest benefits of Hillbillies slots is that you don't have to be rich in order to spin the reels.
Getting started means choosing your number of paylines, which range from one to 20. Once you make this decision, it's time to select your line bet. This starts at a single penny and goes all the way up to $5.
So, while you can consider this a penny slot machine, on the high end you can actually wager $100 per spin. For this reason, it holds the distinction of also being known as a high roller game.
Is Free Better for You?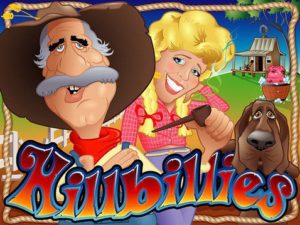 Even though the Hillbillies online slot is one of the most affordable internet based games, some people don't like the idea of wagering real money.
The ability to play for free may be attractive if:
You're worried about wagering your money and losing.
You aren't permitted to play real money slot machines in your country.
You have the desire to learn more about the game before depositing money.
Since the free and real money game are identical, you know that the fast paced action and cartoon graphics will always be available.
Chase the Black Gold
With the use of three wild symbols – Elly May, Jed, and Jethro – you have a much better chance of forming a winning combination.
Note: the use of a wild also multiplies your winnings by either 2x or 5x, a nice surprise that is always welcome. Even better, if more than one wild is on a winning payline, they're multiplied together for up to a 20x multiplier.
Two or more Hillbillies on the same payline triggers the free game bonus. With eight free spins and 2x payouts, you'll hope to spend as much time with this feature as possible.
While we're on the topic of chasing black gold, let's talk about the progressive jackpot.
There is one randomly awarded jackpot (not two like some RTG games). You can win this after any spin of the reels, regardless of your wager or whether or not you won a prize.
The progressive jackpot fluctuates, but it's been $5,000 or more the last few times we've checked. Even better, there have been instances in which the jackpot has reached $10,000.
Strike it Rich with Hillbillies Slots
We know that you play every slot game with the idea that you'll win. And if you're playing for free, we realize that you're doing so for a good time.
With Hillbillies slots, you know two things will always be true:
The action will go strong from start to finish.
There is no shortage of ways to win.
We're particularly big fans of this game because we love the sitcom on which it's loosely based. Along with this, the free game bonus and progressive jackpot is icing on the cake.