There are slot machines that stand up to the test of time. There are also games that fizzle out sooner rather than later.
Indian Dreaming is one of those games that have been around for quite some time. Aristocrat released the game in 1999, and since day one it has been a player favorite in casinos the world over.
With the ever popular Reel Power system, there are 243 ways to win. Combined with a unique theme and plenty of extra features, it's easy to see why this game has remained popular over the years.
Important Game Details
Based on the Native American way of living, reel symbols include but are not limited to tomahawks, tepees, and buffalo among others.
There are plenty of ways to win during base gameplay, but the biggest jackpot is awarded when you make a maximum wager and collect five chief symbols. When this happens, you're awarded 2,500 coins.
Features for the Ages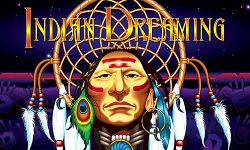 It's hard to imagine that features that were popular in 1999 are still exciting players today, but that's exactly what you get with Indian Dreaming slots.
Let's talk about two of the most important features:
The tepee symbol is the wild.
The dream catcher symbol is the scatter.
Adding to this, you want to see the dream catcher symbol as often as possible. If this shows up on any of the reels, it's safe to assume that a big payout is coming your way.
Even better, when you collect two or more scatters, the free spin feature comes into play. Here's what you need to know:
Three dream catcher symbols: 10 free spins
Four dream catcher symbols: 15 free spins
Five dream catcher symbols: 20 free spins
Also, a multiplier ranging from 3x to 15x will be applied to every free spin.
Will You Play?
At this point, you realize there are many reasons to play an Indian Dreaming slot machine. The theme is cool, the game has stood up to the test of time, the payouts are above average, and there is a free spin feature.
The only downside is that you can't play online. Although Aristocrat has released many of its games in online casinos, this one is only available in brick and mortar establishments.
If you're hesitant about playing, this video may be just what you need to change your mind. It shows a player winning time and time again in the free spin bonus round. While this isn't common, it shows what type of potential the game has.
The SlotsJack Verdict
We understand the disappointment of not being able to play this game online. Aristocrat offers online versions of most machines, such as Wolf Moon, but for one reason or another this game has yet to make the transition.
Even so, this isn't a reason to avoid the game. Instead, you need to find a local casino with a few Indian Dreaming slot machines to choose from. If you're visiting Las Vegas or Atlantic City this won't be a problem. But even in smaller gaming cities, you should be able to find what you're looking for.
The final choice on whether to play is yours, but we'll leave you with this:
Indian Dreaming is one of the oldest and most popular slot machine games of all time.
You will enjoy base gameplay, as well as the power of the wild and scatter symbols.
The free spin feature allows you to play with the casino's money. Plus, there is a multiplier for even bigger wins.
Even if you have no experience with Indian Dreaming slots, you should sit down to play this game if given the chance. It's a timeless classic!