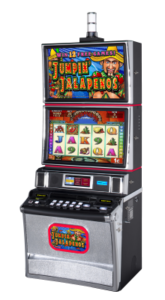 If you like your slots the way you like your food – hot – you are going to enjoy everything this machine has to offer.
When you sit down to play a Jumpin Jalapenos slot machine, you know that the action will be hot and spicy from start to finish.
WMS Gaming is the mastermind behind this game, however, you will also find that it's available from Konami in casinos throughout the world.
Playing Jumpin Jalapenos Slots is a Powerful Experience
Have you ever bitten into a spicy hot jalapeno? If so, you know the rush it brings to your mouth.
Now, imagine if the same power could be packed into a slot machine. This is exactly what you get with this casino game. It doesn't matter if you are playing online or at a casino, the experience is powerful and the enjoyment runs deep.
There is a lot to like about Jumpin Jalapenos slots, including the fact that you can get started with a minimum wager of one cent. As such an affordable game, anybody can sit down, wager a few cents, and keep their fingers crossed for a big return.
Put Some Money in Your Pocket
It may not take a lot of money to play Jumpin Jalapenos slot machines, but that doesn't mean you can't win quite a bit in return.
While the maximum win is 2,500 coins, there are many smaller payouts that will keep you on the edge of your seat. For example, if you come across cacti, it's good for a payout of 500 coins, which isn't bad for an entry-level game.
The theme of the game is what makes it so much fun. For instance, if you are successful in winning the chill eating competition, all of the symbols will go wild.
Do you have the courage to eat several Jumpin Jalapenos in one sitting? Maybe not in real life, but you probably do when playing this slot game. If you are successful in doing so, the end result is 12 free spins.
Note: during the free spins bonus round, many symbols are stacked. This increases the odds of winning on more than one payline during a single spin.
Playing a Jumpin Jalapenos Slot Machine the First Time
Before you do anything, there are two key questions you need to answer:
Will you play Jumpin Jalapenos slots online or at a land-based casino?
Are you interested in playing for free or with real money?
For those in a hurry to play, it makes sense to skip the trip to the casino and pull the lever online. And if you want the opportunity to win thousands, forgo the free version of the game and insert some real money.
With those details out of the way, there is nothing left to playing Jumpin Jalapenos slots but to do it. Just the same as Cleopatra slots, the theme alone is enough to add excitement to the experience. But as you begin to play, you will find that the theme is only a small part of the equation.
To start, you can decide to play anywhere from 2 to 50 paylines per spin. You also have to select your wager, ranging from one to five cents. With a maximum bet of 125 coins per spin, you can definitely put a lot of money on the line with the hopes of winning big.
Get Hot with Jumpin Jalapenos Slots
This game comes in many forms, both online and off, but each one is easy to understand and hotter than most games in the casino.
From the free spins bonus to the nudge feature on wild symbols, the action never stops.
If you like the action hot, if you have what it takes to withstand the heat, you will enjoy every spin of the reels when playing a Jumpin Jalapenos slot machine.