There is one word that comes to mind when examining the Jumping Beans slot machine: classic.
Realtime Gaming (RTG) has done an excellent job taking many of its online slots (think about Hillbillies Cashola) to the next level – such as by implementing modern features – but this one is a throwback to the past.
Here's why:
A 3-reel, 5-payline configuration.
A simplified paytable.
No advanced graphics or animation.
Despite the traditional approach, RTG has found a way to make this game a player favorite. By cutting the clutter but still implementing advanced features, you get the best of both worlds.
The Theme and More
Playing Jumping Beans slots will take you on a trip through Mexico. Everything you see, everything you do, is based on Mexican culture.
From the two magic beans that run the game to the reel symbols, which include everything from a taco to a guitar, you'll feel like you're taking a road trip through this beautiful country.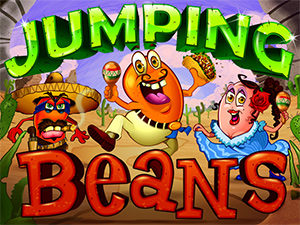 Being that the five paylines are fixed, you don't have to choose how many to play. This makes it easier to get involved.
What you do need to do, however, is select your total wager. This varies from a nickel on the low side to a $25 maximum. This is the perfect game for low limit players, as well as those who pride themselves in taking more of a risk.
Note: if you want to experience the thrill before wagering real money, it's time to consider the free Jumping Beans online slot game.
Surprising Features
In a game with such a classic approach, you may not expect much in terms of features. But that's not what you get here. That's not what RTG is all about.
Let's start with this: Mr. Bean acts as the wild symbol, meaning that he is able to stand in for any other. The only exception is Mrs. Bean, as she represents the scatter.
Not only does the wild improve your chance of winning, but it also means a 2x payout when you're lucky enough to form a winning combination.
Note: the wild and scatter symbols also trigger the auto nudge feature. After your initial payout is awarded, the game nudges the reels one more spot, meaning that you could win additional money.
Mrs. Bean always has something exciting up her sleeve, with three of these symbols on the screen taking you to the free spin game. Upon arriving, you're awarded 10 free games.
During the free spins, you have the opportunity to collect bonus beans. With six distinct levels, you will find yourself eligible to win even more money.
Once your free spins come to an end, your winnings are multiplied by the Bonus Bean multiplier to calculate your total payout.
There's Even More
If you thought we were done, you are wrong. There are two other things we have to mention.
One, the Jumping Beans slot machine has both a minor and major progressive jackpot. Both of these are awarded at random after any spin of the reels, win or lose.
The minor progressive rarely pushes past $1,000, and it typically sits in the $300 to $500 range (which isn't chump change).
The major progressive is more powerful, as it regularly reaches $2,500 or more. We've even seen it climb as high as $8,000 in the past.
Secondly, you can play via your desktop, laptop, or mobile device. If you're the type of player who is always on the go, this is a huge benefit. There's nothing better than the ability to play this crazy fun internet slot via your iPad or iPhone (among other devices).
Play Jumping Beans Slots Online Today
As an RTG offering, you won't find Jumping Beans in a local casino. Instead, those who want to play need to locate it online.
We don't know how you feel, but this is a SlotsJack top choice for three reasons:
The classic theme.
Two progressive jackpots.
Real money and free play.
What are your thoughts on these features? Are they enough for you to sit down and spin the reels?