Did you know that millions of people are interested in fishing both for the fun of the sport, as well as for human consumption? If you're one of these people, you're likely to enjoy everything that Aristocrat's Let's Go Fish'n slot machine has to offer.
Of course, even if you don't know anything about fishing or fish in general, you can still play. With 5-reels and 25-paylines, you'll take part in an underwater experience that is sure to generate excitement (and hopefully some big winnings as well).
We Love the Theme
The name says it all, with the Let's Go Fish'n slots theme based on everything associated with the sport of fishing.
In addition to the water, blue backdrop, and sunny sky, there are plenty of reel symbols in line with the theme. These include but are not limited to several species of fish, seagulls, hooks, and of course, a fisherman. When playing, you'll feel like you're out on the water, not sitting in a casino.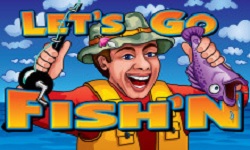 Although the fish related reel symbols are most exciting, you'll regularly come across playing card icons. From jack through ace, these fill out the reels and provide a way to keep the action fresh and the wins coming.
Extra Features
You can play this game just the same as any other. You choose your wager and spin the reels. Easy enough, right?
If you want to speed things up, the auto spin feature allows you to do just that. Once you set your number of spins, with a maximum of 50, the machine will take over and do all the playing for you.
Note: you don't have to select the number of paylines, as you're required to wager on all 25 with each spin.
Money Matters
With a minimum coin denomination of $.02, you don't have to be a high roller to play Let's Go Fish'n. Just as important, the max bet is only $2, allowing you to "take things to the next level" as often as you want.
With a maximum spin value of $250, high rollers shouldn't shy away. Sure, it's best for low limit players, but its flexibility is one of the reasons the game is so special.
Note: the top jackpot is set at 12,500 credits. Winning this isn't easy, but you can boost your odds by making a maximum wager.
Enjoy the Bonuses
Just when you think you're stuck in base gameplay forever, you'll find yourself gaining entrance to a Let's Go Fish'n bonus feature. When this happens, everything changes (for the better) and you're now in position for even bigger wins.
The free spin feature is among the best, with this coming into play when you collect three Let's Go Fish'n symbols. With a minimum of 10 free spins, you're given the opportunity to play with house money.
As part of the free spin round, you're asked to choose from one of five fisherman. Your options include:
Sneaky Sam
Bucket Boy
Lucky Lucy
Cool Craig
Sunbabe Sally
No matter who you choose, your character will do his or her best to collect more free spins and wilds.
Note: you can re-trigger the free spin game, so don't be surprised if you find yourself sticking around this bonus round for longer than expected.
While every version of the bonus is enjoyable, here's a tip: don't choose the same fisherman each time. Instead, mix things up to see which one brings the most luck to your experience.
Play Let's Go Fish'n Slots
You won't come across many games that are more complete than Let's Go Fish'n slots. There are many reasons for this, including:
An easily identifiable theme that suits a large audience.
Unique reel symbols that relate to the theme and keep players engaged.
A large top jackpot of 12,500 credits.
A super cool free spin bonus, with more player involvement than many others.
We like mostly everything about this game, with the only potential issue being the lack of high end payouts.
From budget minded players to those with a big bankroll, Let's Go Fish'n slot machines have something special to offer almost everyone. Additionally, if you enjoy fishing in real life, you'll want to immediately spin the reels.
Final note: if you enjoy this Aristocrat slot machine, take a closer look at Dolphin Treasure and Whales of Cash. Both of these have a similar theme, although the features make it 100 percent unique.