Realtime Gaming (RTG) is known for developing slot machines based on a variety of animals. Of course, there are other companies that take the same approach, such as Aristocrat's 50 Lions.
Even with competition in this space, RTG always finds a way to implement a fun and unique twist. And that's exactly what you see with Lion's Lair slots.
To go along with multiple lion symbols, there are many others that will take you deep into the jungle, such as paw prints.
A Safari Full of Riches
With the Lion's Lair slot machine, you'll soon get the feeling that you're on a safari. Even so, there's no danger here. Instead, the game is all about having a good time and winning as much money as possible.
You won't have any trouble understanding the theme, but you may have some questions when it comes time to place a wager.
Here's what you need to decide on:
The number of paylines that you'll play, between 1 and 20.
The amount of money that you'll wager on each payline, ranging from $.01 to $.25.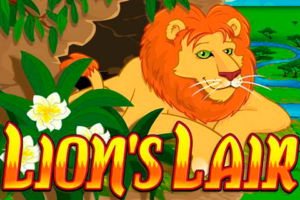 What this means is simple: you can play the game for as little as a single penny per spin. You can also wager a maximum of $5, making the game a bit more risky for players with a larger budget.
Free Fun Online
One of the biggest benefits is the ability to play for free. This doesn't suit the needs of all players, but it's something that millions enjoy.
For example, people who aren't permitted to gamble online in their country often play for fun. The same holds true for those who want to get a better feel for a machine before taking a risk with their own money.
The Experience
With a 5×3 reel grid and 20 paylines, the layout is exactly what you'd expect from an RTG machine. What's different, however, is the theme itself. Although it's jungle inspired, the cartoon approach makes it friendly, fun, and inviting.
From the first spin of the reels, you're given many ways to win. For example, you can score 2,500 coins for collecting five zebra symbols on the same payline. Even better, if you find Leon the lion, your payout will hit 3,750 coins.
As base gameplay progresses, the wild lions symbol has the potential to show up on the first, third, or fifth feel. With this, you have a better chance of winning, since it can replace any other.
Note: using a wild to form a winning combo triggers a 2x multiplier.
The lion's lair symbol is also important, as three of these triples your payout. Also, one of these each on reels two through four takes you to the free game feature during which:
Your first four free spins are played with a 3x multiplier.
Your second four spins are tied to a 4x multiplier.
Your final four spins have a 5x multiplier.
Will You Win the Progressive?
It's never easy to win an RTG slot machine progressive jackpot, but it's good to know that the opportunity is always there.
With Lion's Lair slots, the progressive is always in the four figures. It fluctuates based on the last win and how many people are playing, but don't be surprised when it surpasses $5,000 and begins to close in on $10k. How would you like to see that much money in your account?
A Solid Slot Machine
For the most part, the game is the same as many from RTG. That said, there are a couple special features that allow it to stand out:
The use of a unique bonus feature during which your payout potential changes.
A lion theme that shows off the king of the jungle (in a fun way, of course).
The next time you visit an online casino and Lion's Lair presents itself, you may want to stop what you're doing and take a closer look. Don't worry, the game won't bite!