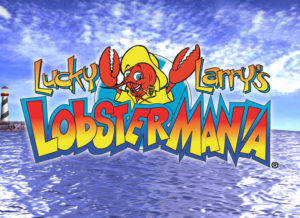 Who would ever think that a lobster themed casino game would become a big hit? When IGT released its Lobstermania slot machine, some people laughed while others realized it would take the gambling world by storm.
Now, several years later, IGT has released two additional games based on the same theme.
Also known as Lucky Larry's Lobstermania, this game is more than a unique theme. It's one that is full of twists and turns, big payouts, and of course, plenty of wholesome fun.
As a video slot machine, especially one from IGT, you get the best of the best in terms of audio and graphics. This enhances the playing experience, making you feel as if you are part of the machine.
The theme and big cash prizes draw you in, but it's the many bonus games that will keep you seated. If you have ever come across Lobstermania slots in a brick and mortar casino, chances are that most the seats were taken.
How to Play this Game
A 5-reel, 25-payline setup is just one of the many things that make Lobstermania slot machines so unique.
You have the opportunity to wager on each payline, reaching a maximum of 75 coins per spin. While this may be a bit rich for your budget, here's something to remember: when you bet the maximum amount per spin, you put yourself in position to win the 50,000 credit jackpot.
IGT is well known for making user friendly games, and Lobstermania slots is no different. The instructions are well laid out, base gameplay is simple to understand, and the bonuses are straightforward.
The simplicity alone is reason enough to give this machine a try, especially if you are new to slots.
Lobstermania Slots Bonus Rounds
The chance to win a jackpot of 50,000 credits will keep you interested in base gameplay for quite some time. And when you add in a few exciting bonus features, everything changes for the better. You'll soon find yourself searching for these, wanting the opportunity to compete and take home even bigger prizes.
The Buoy Bonus
If you have yet to see Lucky Larry, it's because you have yet to enter the Buoy Bonus round. He makes his first appearance in this game, putting on a show for the players.
It starts by asking you to choose a symbol, which dictates how many picks you'll receive. From there, you are prompted to pick buoys from the screen. This is when Larry brings up his traps, showing you what each one contains.
With each trap that surfaces, your account is credited.
The Great Lobster Escape Scatter Pay
To trigger this bonus, you need to land three, four, or five Caged Lobster symbols in any position on the reels.
As the lobsters run for cover, you'll find yourself chasing big winnings with credits being added to your account along the way.
Wild Lobster Symbol
This isn't a true bonus game, but it's another feature that keeps things fresh. The Wild Lobster symbol substitutes as a wild for any other, with the exception of the Lobstermania and Caged Lobster symbols. The result? The opportunity to win more money with each spin of the reels.
Other Versions of the Game
The original Lobstermania slot machine is the most popular, but that doesn't mean you should ignore the second and third generation. IGT rolled these out to much excitement, and the features of each game do not disappoint.
IGT shares information on Lobstermania 2 video slots on this page. Some of the differences when compared to the original game include:
Six bonus rounds.
Opportunity to win a progressive jackpot.
Side bets allow you to multiply your winnings.
When you "wager up" during the second bonus bet, the odds of winning the progressive increases.
If you want to play the third generation of this game, you'll first want to compare it to the others. Some of the features that make it unique include:
Two different game options on the same machine: 50-payline setup or a 720 ways to win setup.
Same great bonuses as the first two Lobstermania games.
Use of the popular IGT King Stacks symbols.
Furthermore, and most importantly, Lucky Larry's Lobstermania 3 video slots has its very own bonus round. Known as the Big Wheel Bonus, there are three things that make it special:
Chance to win as many as 600 credits, multiplied by the initiating game multiplier.
Chance to win the progressive jackpot during the bonus round.
Opportunity to win up to three spins of the wheel.
Every Lobstermania slot machine has several bonus games that add to the excitement, but it's the third version that takes the cake. If bonus rounds are your thing, this is the version of the game you want to play.
Ways to Play Online
If you don't have access to this game at a land based casino, you aren't out of luck. Instead, you can play Lobstermania slots online. Many online casinos offer this game, as it's truly one of the most popular of all time. In other words, it attracts players.
When playing online, you'll have the option to do so for free or with real money.
Real money bets put you in position to win real money prizes. Playing for free means you can't win anything, but it also means you can't lose. Those who play for free typically do so for the experience. They use this time to learn more about the game, while enjoying every spin of the reels without any stress.
Three Ways to Have a Good Time
There are other animal themed games that have a large following, but not many share the same high level of features and bonus rounds as Lobstermania.
Lucky Larry is one cool dude, and you can thank him for all three versions of this slot machine. No matter which one you play, you'll enjoy the action and potential for life changing payouts.