Over the years, many people have claimed to lay eyes on the Loch Ness Monster. Nobody knows for sure if the monster is fact or fiction, but that doesn't stop many from continuing their search.
If you'd rather put your time to good use, turn your attention to the Loch Ness Loot slot machine game by Realtime Gaming.
With this machine, you can have your fun chasing after this beast. Even if you come up short of your goal – which is probably to win the progressive jackpot – you can still have a good time and go home with some money in your pocket.
A Friendly, Fun Game
If you're expecting Loch Ness slots to be scary, intimidating, and a bit dangerous, you're all wrong. Instead, RTG took a different approach. With a cartoon theme, vibrant colors, and plenty of interesting reel symbols, the fun never stops.
The 5×3 reel grid is a familiar sight, as this is used in other RTG online slots such as Lion's Lair.
With 25 paylines, you're given quite a bit of flexibility when it comes time to spin the reels. You can get started for as little as a single penny on a single payline. On the high end, players can wager $.25 on all 25 paylines for a total bet of $6.25.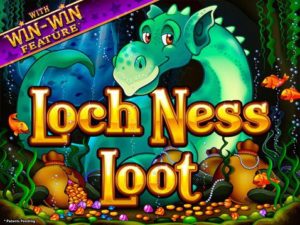 In the event that real money games don't suit your fancy, check out the always popular free Loch Ness Loot online slot.
This game is built for nothing more than fun. The theme and details are exactly the same, with the only difference being that you aren't required to wager real money.
Search for Big Winnings
While some people spend all their time searching Loch Ness for this beast, you aren't taking the same approach. Instead, you're having your fun by playing this game and searching for big time payouts.
You can win in many ways, including a payout of 2,500 coins for collecting five Loch Ness Monster symbols on the same active payline.
Note: the monster symbol is wild and the treasure symbol is the scatter. If you use a scatter to form a winning combination, your payout will be multiplied by as high as 25x.
The treasure symbol does one other thing: three or more of these trigger the free game bonus round. You'll spin the reels for free eight times, with each win immediately doubled.
A Random Sighting
Many people have claimed to spot the Loch Ness Monster at random, not when they were actually looking for the creature.
The same happens with the progressive jackpot. After the end of any game, even if you lose, this pot is awarded at random.
It's always more than $1,000, but there are times when we've seen it closing in on $5k.
Spot a Loch Ness Loot Slot Machine
It doesn't take much work to spot this game. All you have to do is visit an RTG powered online casino and you're sure to find it.
Will Loch Ness Loot slots ever be as exhilarating as chasing this massive beast through the water? Probably not. However, it goes without saying that you probably have a better chance of success.