We're confident in saying that the Lucha Libre slot machine by Realtime Gaming (RTG) is unlike any other game you'll come across online.
With its Mexican wrestling theme, similar in many ways to the popular movie Nacho Libre, players have a good time (and enjoy a laugh or two) as they fight for the right to win big money.
You can win payouts for almost everything. From downing a pre-fight Mexican feast to taking on the top characters in the game, including the powerful Guacamolio, everything you do takes you one step closer to glory.
It's Time to Enter the Ring
Although you may be a bit intimidated by the characters, it's all in good fun. When the time comes to enter the ring – in this case a 5×3 reel configuration with 25 paylines – you're faced with several options.
Most importantly, you must make your wager. This sounds easy enough, but you can bet anywhere from a penny to $156.25 per spin. It's this flexibility that makes the game the perfect choice for everyone. It's perfect for low limit penny players as well as those who are high rollers.
While some people pay to play, others enjoy the free Lucha Libre online slot. This means two things:
You don't wager real money.
You can't win real money.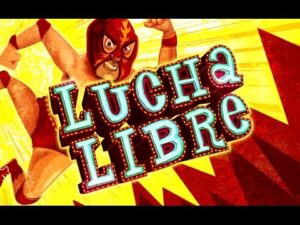 With the free game, your entire purpose is to have a good time and to learn more about how the machine works.
Beat the Competition
Unlike the real thing, you don't get involved with this game in a physical manner. Instead, you take on your competition via your computer screen or mobile device (more on this below).
You can win many prizes, with some of those on the lower end associated with reel symbols such as: chili, beer, tequila, and a championship belt.
Here are some other points of emphasis:
You can win up to 25x your bet by collecting scatter mask symbols.
Five wrestling ring symbols trigger a 200x payout.
A minimum of three wrestling ring symbols takes you to the Time to Rumble bonus game.
During the bonus round, you first put your skill to good use in the ring. If you're successful in beating your opponent, you can win up to 14 free spins with a 2x multiplier.
Cool Facts About Lucha Libre
Did you know that the term lucha libre means "free fight?" This is a form of Mexican wrestling that has captivated audiences for many years.
Here are some other facts about the sport that you may not know:
Wrestlers are known as luchadores.
Mexican wrestling has been around for more than 150 years, dating all the way back to
Luchadores are well known for their agility and ability to perform crazy aerial stunts that amaze the crowd.
If you thought playing Lucha Libre slots was exciting, take the time to attend a wrestling match in person. This will give you a better understanding of the sport, as well as the reason for RTG choosing this theme.
One More Benefit, One Drawback
The final benefit worth discussing is the ability to play on almost any device imaginable. While many continue to play online slots via their desktop computer, others have turned to mobile phones and tablets to get involved. You can choose from any of these options, based on what suits your available technology and playing style.
We hate saying it, but we don't understand why RTG left out a progressive jackpot. With one of these in place, Lucha Libre would have almost every feature imaginable. This may not matter to some, but it's a drawback from where we stand.
While games like Loch Ness Loot are based on myth (at least that's what we think), there are others, such as this one, which are rooted in reality. In this particular case, the theme alone is enough to turn us into big fans.