Do you have a lucky number? If you're big into Chinese culture, it's safe to say that 8 may be the number that drives everything you do.
Realtime Gaming (RTG) knows what it takes to attract a large audience, and that's why the company selected this theme to be the central point of one of its games.
The Lucky 8 slot machine is based on Chinese culture, with the number eight playing a big role in all aspects of the game.
As you make your way along the Great Wall of China, you're faced with a variety of challenges that will determine how much money you win. For example, you must take on the evil emperor on your way to rescuing a beautiful woman who has been stolen away from her family.
In the review to come, we'll discuss the many features that make this game a player favorite.
The Time Has Come to Get Lucky
As the title implies, there is a lot of luck to be had when you play this online slot machine.
Getting started with Lucky 8 slots means selecting your number of paylines as well as your wager per payline.
With 25 paylines, you have a big choice from the start. While some players only place a wager on one line, others realize that the best opportunity awaits when they get involved with each one.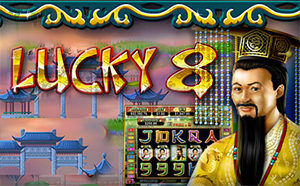 Once you make this decision, it's time to talk money: will you wager the minimum of one penny per payline? Will you push your wager to the maximum of a quarter?
With a top bet of $6.25, you have the opportunity to make a solid wager for the chance at a big return.
Approaching the Lucky 8 Slot Machine
If you've played other RTG games in the past, you're probably familiar with the 5×3 reel grid configuration. This is a standard setup that allows for an easy understanding of the action that's unfolding before your eyes.
As your journey moves from one step to the next, you're given numerous chances to win. For example, if you're successful in taking out the emperor, the game will kick 888 credits your way.
Although the emperor is the bad guy, there's something good about this symbol: it acts as the wild. This means two things:
The emperor symbol can help you make winning combinations.
Using one of these to create a win triggers up to an 8x multiplier.
Acting as the scatter, the Lucky 8 symbol is also important. Not only can this award an instant win, but three or more of these will take you to the free spin feature.
Get Lucky with a Progressive Jackpot
There is only one thing better than an online slot with a progressive jackpot: a game with two progressives.
That's exactly what you get with Lucky 8 internet slots, as it features both a minor and major progressive jackpot.
With the value displayed above the reels, you'll always know how much you can win if luck is on your side.
Awarded at random after any spin, winning either jackpot will make your day.
The minor is the smaller of the two, however, we've seen it close in on $1,000.
The major progressive is bigger, with this one consistently in the $2,000 to $3,000 range (and sometimes pushing higher).
You Can't Go Wrong with this Game
It's easy to see why Lucky 8 is among the most popular RTG slots of all time. We've discussed many of the top benefits, including the two progressive jackpots, free spin bonus, and exciting theme.
It's also important to note that you have the option to play for free. This could be right for you if you're seeking nothing more than a good time.
There are many games with "lucky" in the title – including Lucky 88 and Lucky Ducky – but this one will always be one of the best.