What does the number 88 mean to you? If you follow and believe in ancient Chinese culture, you know that this number symbolizes good luck – which is something you can always use more of when playing casino games.
With luck and good fortune attached to the number, it only makes sense to use it as the theme of a slot machine game. And you can leave it up to Aristocrat to do just that.
Known for many games, including player favorites such as Tiki Torch slots, Aristocrat has done something special with Lucky 88.
Everything from the theme to the graphics to the audio (and that's just the start) is based on an oriental theme. Add this to a variety of intriguing features, such as free games and multipliers, and you have something that many players will gravitate towards.
Note: you can play this game for real money and free via online casinos.
Game Details
A 5-reel, 25-payline configuration allows you to feel right at home. This is the setup used by many Aristocrat games, so don't be surprised if it looks a bit familiar as you begin to spin the reels.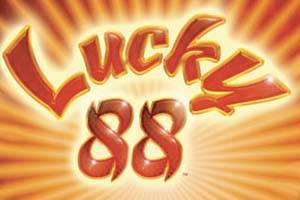 As noted above, everything about this game is based on Chinese culture. With this in mind, you shouldn't be surprised to come across symbols such as Chinese lamps, Chinese drums, and golden lions. Rounding out the symbols are playing card values, ranging from nine to Ace.
There are two special symbols to make note of:
Red lantern acts as the scatter symbol.
Chinese man is set as the wild symbol.
Since both these symbols bring something special to the game, you should always keep your eyes out for them.
If you opt to play with real money, you won't need much to get started. This is due to a minimum starting wager of a single penny. Those who want to bet more won't be disappointed, as the maximum is set at $4.
Note: the most you can win at Lucky 88 slots is $3,552.
While the top jackpot isn't as high as many other games, such as IGT's Cleopatra game, there are extras that will keep you coming back for more.
Bonus Features
As noted above, there is both a scatter and wild symbol to help you win more money, more often.
If you collect three scatter symbols on a single spin, the free game bonus is activated. You have the option to choose between a game of dice or free spins. Either way, you can't go wrong.
If you opt for free spins, you can be awarded up to 25 in a single round. Here are your choices:
4 free spins with an 88x multiplier.
8 free spins with a multiplier set at either 88 or 18.
18 free spins with a multiplier set at either 38 or 8.
25 free spins, with the ability for every win to be multiplied by either 18 or 5.
In other words, there is plenty of action here. Not only do you receive free spins, but a multiplier can quickly push your winnings to new heights.
Many Ways to Play Lucky 88 Slots
Some players feel that the biggest benefit of Lucky 88 is the many ways you can play. Once you find an online casino that offers the game – and there are many to choose from – you have a choice to make.
Will you play for free or with real money? Those seeking a bigger thrill with the chance to cash in will probably lean towards the real money version.
Conversely, if you're looking for nothing but fun or the opportunity to learn more about the game, playing for free remains an option.
Note: you will also find this game in many land based casinos throughout the world, including well known destinations such as Las Vegas.
We know you're likely to be attracted to many games by Aristocrat, but you can't go wrong when you play a Lucky 88 slot machine.