Although the theme of Lucky Count slots is a bit spooky, the playing experience is anything but that.
This Aristocrat slot machine remains a player favorite, thanks in large part to the presence of Dracula, as well as his squad of scary friends, who all provide a thrill a minute.
In many ways, the Halloween-driven theme is the primary benefit of playing this game. Not only are the graphics on par with some of the best in the industry, but the animation and sound effects don't come up short.
Despite the fact that there's a lot happening on the screen, this is actually one of the most basic games ever developed by Aristocrat. Of course, this doesn't mean it's without features. It simply means that anybody can sit down and pick up on how to play.
For example, getting started means two things: selecting your denomination and number of paylines. From there, just like every other slot machine, you spin the reels and wait to see if you're a winner.
Note: with a win percentage of nearly 95 percent, there's no wondering why Lucky Count has remained a top game in casinos throughout the world.
Here's How you Play
Above, we discussed the basics of playing. Now, we're going to dig in a bit deeper.
With a traditional setup, paylines pay from left to right. The only exception is when a scatter symbol appears anywhere on the screen.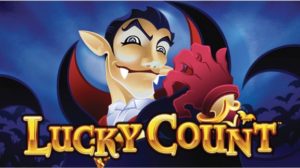 Here are a few other things to keep in mind:
There are 5-reels and 25-paylines.
All scatter wins are added to the winning paylines.
Payline wins are multiplied by the credits you wagered on each payline.
Your total wager is multiplied by the scatter win.
A repeat pay feature is implemented to help you win more often.
Just the same as any game, it's hard to fully grasp these features until you spin the reels. Only then will you understand what each feature offers and how it will add to your playing experience.
Lucky Count Slots: Play Online or at a Casino
By now, you're beginning to see that there's a lot to like about this game. Going one step further, you have the opportunity to play online or at land based casinos.
If you want to play at a local casino, such as in Atlantic City or Las Vegas, you can use this online tool to find the right establishment for you.
For those who are interested in an online experience, it's a bit easier to get started. Once you find an internet casino that offers the game, you can then sign up for an account, deposit money, and spin the reels.
In the event that real money online gaming isn't legal in your country, you aren't out of luck. Instead, you can play Lucky Count for free. You can't win cash, but this approach provides an opportunity to learn more about the game while having an enjoyable time.
Scatter and Wild Symbols can Help
Are you the type of player who is always looking for a little extra help? Well, you're in luck if you decide to play a Lucky Count slot game.
Reel symbols are almost exactly what you'd expect, including but not limited to bats, a castle, werewolves, and of course, a vampire. Along with this, playing cards are used to fill up the rest of the reels.
Lucky Count is unique in the way that it includes two wild symbols: Count Dracula and a bat.
With two of these available, you have a better chance of using one to form a winning combination.
The castle acts as the scatter symbol, with this popping up all over the reels during base gameplay. Even better, if you collect three or more of these, you're taken to a super scary free spin bonus game.
Note: three scatters award 15 free spins, four scatters award 20 free spins, and five scatters is good for 40.
Spinning the reels for free is even more fun when you realize that you can re-trigger the bonus round up to 15 times.
Note: when you use a wild to form a winning combination during a free spin, a 3x multiplier immediately kicks in.
Are you a Risk Taker?
If you're the type of player who's willing to take a walk on the wild side, the Lucky Count Gamble feature is one to consider.
Once you win any amount of money, you're given the chance to either double or quadruple your payout. Get this:
Guess the right color of the facedown playing card and your payout is doubled.
Guess the right suit of the facedown playing card and your payout is quadrupled.
The only downside is that you can't always be right. And if you're wrong, your winnings are thrown out the window. It's a gamble, but it may be one that you're willing to take.
The SlotsJack Review: Get Scared and Lucky
Although the theme's a bit creepy, it actually works in your favor. After all, who wants to play the same old game, time and time again?
In this review, we discussed all the finer details of a Lucky Count slot machine. By now, you should have a better idea of if you're going to play in the near future. We'll leave you with a few reasons why we enjoy this game:
The theme is just about as unique as they come.
There are two wild symbols, giving you more chances to win.
The Gamble feature provides additional excitement (if that's what you're looking for).
The free spin bonus game puts you in position for big wins.
If these features excite you as much as us, you may want to stare Dracula in the face for the chance to win big!