Imagine what the world was like when dinosaurs roamed wild. Can you imagine living amongst these beasts?
While you'll never have the opportunity to live side by side with a Triceratops (among other species), Realtime Gaming (RTG) gives players the chance to experience the thrill of doing just that.
The Megasaur slot machine is all about dinosaurs. From the reel symbols to the bonus feature, every step you take is based around these animals that existed more than 200 million years ago.
Along the way, you'll lock horns with Triceratops, Velociraptors, and Pterodactyls among many others. Of course, everything about the game is based on the player having an enjoyable experience – there's nothing scary here!
Your Guide to Getting Started
Before we talk about reels and paylines, let's discuss two important details about the playing experience:
Megasaur slots come in both a real money and free version, allowing it to attract the largest number of players.
You can play the game on a traditional computer as well as a variety of mobile devices, including tablets and smartphones. This is the perfect solution for iPhone and iPad users (as well as those using Android and BlackBerry devices).
With that in mind, it's time to focus on the 5-reel, 25-payline configuration. This is a standard layout that won't bring any surprises. Instead, everything is just where you want it to be.
You don't have to select your number of paylines, as this is fixed at 25. What you are required to do, however, is choose your wager. There are three options:
$1.25 per spin
$2.50 per spin
$5 per spin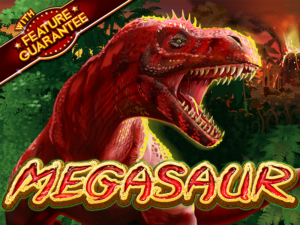 As you can see, the Megasaur online slot is not for low budget players. It may not be a high roller game, but there's nothing on the low end, such as a penny wager, which has become standard with most RTG machines.
Plenty of Modern Payouts
Despite the fact that the theme takes you back in time hundreds of millions of years, there's nothing old school about the payouts. Instead, you'll soon find that the paytable provides some of the biggest prizes offered through an online casino game.
There are small prizes – such as 250 coins, 500 coins, and 1,000 coins – for collecting three or more symbols. Generally speaking, the bigger the dinosaur symbol the bigger the payout.
Even though base gameplay can keep you engaged, there are extra features that make the experience even more enjoyable.
For example, the Megasaur symbol is wild. This guy will eat other symbols on his way to helping you form a winning combination.
Note: the wild red Megasaur appears on reel four, with the wild green Megasaur showing his face on reel two.
The volcano symbol is the scatter, with this providing an opportunity to win up to 300x your initial bet. Three or more of these will take you to the Megasaur bonus feature, during which you're asked to choose from one of three volcano symbols. This will uncover two, five, or 10 free spins.
Note: unlike many games in which you never know if you'll trigger the bonus, this one guarantees that it will happen within your first 250 spins. This may sound like a lot, but it comes fast.
What About the Massive Progressive?
Being that some species of dinosaur were among the biggest animals to ever roam the earth, it's only natural for RTG to take things to the next level in regards to the progressive jackpot.
A game like Lucky 8 attracts players because of its two progressive jackpots. This one, however, has something else going for it: a payout that is head and shoulders above almost anything else you'll find online.
The Megasaur progressive regularly eclipses $1 million. You're reading that right: seven figures!
To win, you need to collect five volcano symbols on an active payline. Doing so will award you the entire jackpot.
There are two other ways to win:
Four volcanoes pay 20 percent of the jackpot.
Three volcanoes pay 10 percent of the jackpot.
There's nothing like winning the entire pot, but 10 or 20 percent of $1 million (or more) is still a huge payout.
Go Big and Play the Megasaur Slot Machine
Everything is bigger when playing this game – especially the payouts.
Some of the biggest dinosaurs were more than 100 feet long and weighed up to 100 tons. RTG decided to stick with this theme, making sure everything about Megasaur was bigger than other online slot machines.
At SlotsJack, we live by the mantra "go big or go home." If you feel the same way, you've found the game that will suit your playing style.