The Miss Kitty slot machine game by Aristocrat Technologies continues to be a player favorite, both at land based and online casinos.
It may not be one of the newest games from the company, but this hasn't stopped it from remaining one of the most popular.
If you enjoy other Aristocrat machines, such as Pompeii slots, this cat-based game is sure to keep you grinning from ear to ear.
The 5-reel, 50-payline configuration is easy to understand. Even when you add in the free spins and sticky wild symbols, there will never be a point when you are lost and wondering what will happen next.
More than Meets the Eye
It's a shame that many players pass over Miss Kitty slots because they think it's just like every other cat inspired theme, such as Kitty Glitter by IGT. As you play, you'll find that it's 100 percent unique across the board.
It all starts with the reel symbols, with some of the most appealing including the Miss Kitty logo, jug of milk, a bird, and a ball of yarn. Aristocrat uses poker card symbols to fill out the rest of the reels.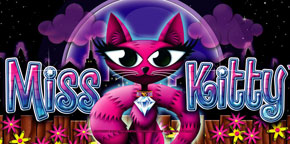 When compared to other games with a similar theme, the audio and graphics associated with this machine allow it to stand out. From start to finish, the happy jingle will keep you excited about what's to come.
Simply laying eyes on this game may be enough to get your blood flowing, but the real action doesn't begin until you spin the reels. Doing so means making a wager, with your options ranging from a single penny to $4.
With such a wide betting range, Miss Kitty fits the bankroll of all types of players.
Note: the jackpot is 100,000 coins. You qualify to win this payout when you make the maximum wager.
A Game Full of Bonuses
As you chase the 100,000 coin jackpot, you should also cross your fingers that the sticky wild feature works in your favor.
If you're lucky enough to collect three moon (scatter) symbols on the first, second and third reels, you are rewarded nicely with 10 free spins. As you spin the reels for free, don't be surprised if you add an additional five spins to the pot.
The free spins alone are a nice feature, but the "sticky Miss Kitty" gives you the chance for big winnings. This symbol will remain on the second, third, fourth, and fifth reel during the free spin round. With this, your odds of winning are extremely high.
But don't get so caught up in the sticky Miss Kitty and moon symbols that you overlook the power of the stacked fish. When this hits, you are awarded a payout on each and every payline. How many games can say they have a feature like that?
Play Free Miss Kitty Slots
A game with 50 paylines, a 100,000 coin jackpot, and a variety of bonus features is not one that you typically want to play for free. However, Miss Kitty slot machines are a bit different.
With such an exciting theme, you may not care about playing with and potentially winning real money. Instead, you want to play for the fun of it.
Of course, since there may come a time when you change your mind, you should learn as much as possible as you play for free. You can use this knowledge to devise a strategy for playing real money games in the future.
A Friendly and Exciting Slot Game
There aren't many slot machine themes friendlier than a kitten. Sitting down to play this game, for free or with real money, will give you a good feeling. From there, all you can do is enjoy your time with the game and hope for the best.
There are players who consider this their favorite cat themed game, and once you spin the reels you may find yourself joining this club.
Are you still wondering if Miss Kitty slots is the right game for you? Watch this video to see a lucky player hit for 15,450 credits during the free games feature. Although she was playing in a Las Vegas casino, you can find this machine in establishments throughout the United States. Good luck!