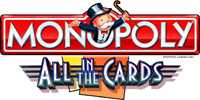 In the world of board games, Monopoly is the cream of the crop. Thanks to WMS Gaming and IGT, a slot machine version of this game has made its way to both land-based and online casinos.
With several unique variations, Monopoly slots has quickly become a go to game for millions of players. As soon as they enter a casino, the first thing they look for is this board game based machine.
While anybody can play the board game version of Monopoly, there is one major problem with this: you can't win any real money.
Fortunately, with a Monopoly slot machine, this is not the case. Forget about that fake money. When you hit it big with this game, you can take home tens of thousands of dollars (or more).
Choosing a Monopoly Slot Machine
Unlike the majority of slot games, Monopoly comes in many different forms. Some of the most popular include:
Once Around
Movers and Shakers
Here and Now
Monopoly Plus
Advance to Boardwalk
Chairman of the Board
Pass Go
With many other variations, you can see how it could be difficult to decide on which machine to play. Here is the best advice you can follow: experiment with each variation of the game, paying close attention to the pros, cons, and of course, how much money you win. Only then can you make a confident decision on which game best suits your playing style and budget.
10 of the Best from WMS
Both WMS and IGT have produced Monopoly slot machines, with each achieving great success with the theme.
For a better understanding of where WMS fits in, here is a list of its 10 Monopoly game themes:
Free Spin Bonanza
Party Train
Go Wild
Wild Chance
Money 7's
Own It All
Double Monopoly
5X Railroad
All In The Cards
Wild Dice
One thing you need to know about these themes is that they are all part of a wide area progressive network, meaning that jackpots can easily reach six figures.
The Monopoly Slots Theme
If you have ever played the board game, you won't have a hard time picking up on the finer details of Monopoly slot machines. In fact, there aren't many differences between the two.
As you get started, the screen is laid out in the familiar Monopoly board fashion. From the jail to the railroads, all the squares come to life in front of your eyes.
In true IGT fashion, this game is an industry leader in regards to its audio and graphics. With crisp colors, clear sound, and plenty of animation, you'll almost feel like you are a game piece, making your way around the board in search of riches.
WMS versions of the game are every bit as advanced in all these areas.
MegaJackpots Monopoly with Pass "GO" Bonus
Although every Monopoly slot machine has something unique to offer, some are better than others in many key areas.
MegaJackpots Monopoly with Pass "GO" Bonus has become a player favorite. The theme is similar to the rest, but it's the high level features that allow it to stand out from the crowd. Here is what you need to know:
It has the largest jackpot of all Monopoly games, hence the name "MegaJackpots."
A double or nothing feature that gives you the chance to double base game wins.
Progressive jackpot, ensuring that it grows large and fast.
With a 5-reel, 9-payline setup, base game play is simple to understand. And while this is fun, especially if you are winning, the real action comes when you enter one of two bonus rounds.
Pass "GO" Bonus. When you land three Pass "GO" Bonus symbols, this round is initiated. With anywhere from three to six dice rolls, you can quickly advance around the board, picking up additional winnings and multipliers every step of the way.
Win Spin Bonus. Thanks to scatter symbols, this bonus round is awarded regularly. Upon entry, you receive two to four free spins. Best yet, you get to spin until you win.
The primary reason to play MegaJackpots Monopoly slots is to chase after the progressive jackpot. With each spin of the reels, you have a chance of hitting it big. To win, you must bet the maximum amount and receive five MegaJackpots symbols on the center payline.
Plenty of Other Bonuses
No matter which Monopoly slot machine game you are playing, you always have the ability to enter one or more bonus round. Watch out for these:
Mystery Wild Bonus. With random activation, you never know when you will enter this bonus round. If it happens, a variety of symbols are turned wild, thus putting you in position for big winnings.
Property Bonus. If you land on any property space, you will receive a slot machine symbol that can be used for cash or additional rolls. This is the most common bonus, as it's typical to land on properties.
Community Chest Bonus. When you land on this space, a big reward is coming your way. From more rolls to cash, you should be excited about this bonus round.
Jail Bonus. Who ever thought of giving a bonus for landing in jail? Well, this is exactly what you get when you play this game. If you roll three doubles in a row, the Jail Bonus is activated. If you are roll another double in the next three attempts, you are awarded generously.
GO Bonus. Quite possibly the best bonus round in Monopoly slots, if you land on GO you are awarded a cash prize of 200x your initial bet.
These Monopoly slot bonuses add excitement to a game that is already packed full of fun.
The Popularity of the Monopoly Board Game
Let's face it: Monopoly slots would not be nearly as popular if it weren't for the many years of success that the board game has achieved.
First published by Parker Brothers in 1935, this game has been going strong for nearly 100 years. Everyone loves playing, and of course, everyone enjoys winning even more.
Here are some other fun facts regarding this board game:
There have been many spin-offs of the original game, such as: Advance to Boardwalk, Monopoly City, Monopoly Deal, Monopoly Junior, and the Free Parking card game.
There is both a U.S. National Championship and World Championship.
The average playing time is between one and four hours.
Any game that can remain popular for so long is one that is sure to achieve success when converted to a slot machine. And that is exactly what has happened with Monopoly.
It's Time to Get Started
There are people who enjoy movie themed slot machines, such as Wizard of Oz, as well as those who gravitate towards those based on board games. If you fit into the second group, this game is one that deserves your attention.
You can experiment with the many variations, having a good time until you find the one that is best for you. At that point, you may soon realize that Monopoly slots are among your favorite casino games.