Coming across a Moon Drifter slot machine in a casino should be enough to get you excited. From day one, this Aristocrat game has been a big hit in casinos throughout the world.
In addition to the unique and action packed theme, its inclusion in the company's More Power series is attractive to most players.
With the ability to wager anywhere from a penny to $10, with more than 3,100 ways to win, most people find a reason to play.
The Basics
As a slot game with a Wild West theme, you can expect everything from the sound effects to the animation to be appealing. If it has anything to do with life on the plains, you can be rest assured you'll find it here.
When you sit down to play, take notice of the 3×5 matrix. This is simple enough to understand, but soon enough something could change.
If you collect the right symbols, the 3×5 matrix is transformed into a 4×5. Better yet, this comes complete with Xtra Reel Power.
Note: the 5×5 configuration comes into play during the bonus game.
Become a Winner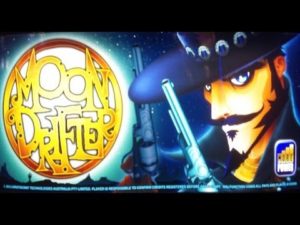 Despite advanced features and plenty of ways to win, there's nothing overly complicated about Moon Drifter slots.
The paytable is straightforward and to the point, allowing you to easily understand how to form a winning combination.
As we've said before, you should never apologize for a win – even if it's not as big as you would like. With this game, thanks to 3,125 ways to win, you're always in position for big things to happen.
Note: the highest paying symbol is the crossed knives. If you're lucky enough to collect five on an active payline, the end result is an award of 300x your wager.
Other payouts worth mentioning include:
Five cow skull symbols: 150x your wager
Five golden spur symbols: 125x your wager
Five horseshoe symbols: 100x your wager
While we're on the topic of symbols, let's discuss a couple others.
First off, the gold cross acts as the scatter symbol. If you receive three of these within a winning combination, your payout is 60x your original wager.
Adding to the power of the gold cross, this is also the symbol that triggers the free spin bonus game.
The cowboy symbol is also a player favorite, due to the fact that it serves as the wild. It doesn't matter what game you're playing, a wild symbol is one that you want to collect as often as possible. With the ability to replace all others, with the exception of the gold cross, it can turn you into a winner.
Free Spins for More Action
As noted above, the scatter symbol can lead you to the free spin game. If you collect three of these, you're taken to a special bonus round where you're awarded 10 free spins.
Note: the red rose is important during the free spin game, with five or more of these adding additional paylines on top of the current set of reels.
Also, like many Aristocrat slot machines, you can re-trigger the free spin round, giving you more time to win big.
Reasons Why Players Enjoy Moon Drifter Slots
At SlotsJack, we fully understand that choosing a slot machine can be difficult. You only have so much time and money, so you don't want to make a poor choice.
Adding to this challenge is the fact that there are many options to consider. Fortunately, with a Moon Drifter slot machine, you know you're getting something unique. And for many, that's exactly what they're looking for when spinning the reels.
Even though the game was released in 2013, it still brings a high level of excitement to the casino floor. Here are some reasons why many players love it:
Part of the Aristocrat More Power series.
An unbelievable 3,125 ways to win.
The ability to wager a little or a lot, which helps attract a large audience.
On top of that, the free spin bonus game is one of our favorite features. It's not much different than what you get with other Aristocrat games, but it's more than enough to keep you engaged.
Our Review, Your Decision
This Moon Drifter slot machine review is meant to help you better understand how the game is played, how to win, and the many features that make it special.
Now, it's your decision as to whether or not you play. If you're interested, you'll need to find a machine in a land based casino, such as The Meadows. For now, there is no online version.
With many ways to win, a high powered free spin game, and a one of a kind theme, Aristocrat put this game in position to be a colossal success. And that's exactly what it's been!