What do you get when you mix together a penny slot game, a unique theme, and several high level bonus features? The answer is simple: a More Chilli slot machine.
Developed by Aristocrat in 2007, this game has been attracting players at land based casinos since day one.
From the Mexican theme to the sound and graphics, there's nothing about this machine that will have you running for the hills.
More Chilli Slots are Still Going Strong
Many games fizzle out after a few years on the casino floor. More Chilli, however, continues to pick up steam with each passing year. You may consider this a phenomenon, but Aristocrat knows it comes down to one thing: giving players exactly what they want.
Players want exciting and simple, and this game never disappoints in either department. Starting with its 5-reel, 25-payline configuration, it won't take long to get your bearings.
Coin denominations range from a penny to $2, meaning that it's designed for players of all budgets. The ability to spin the reels for one cent is one of the primary reasons for the popularity of the game.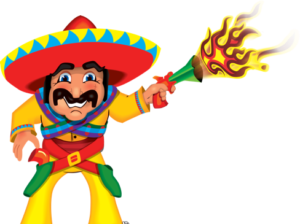 On the top end, high rollers love the fact that they can wager up to $60 per spin.
You'll never get super rich playing a More Chilli slot machine, but with a maximum payout of $4,000 there's definitely something to keep you engaged.
With a Mexican theme, you can probably guess which types of reel symbols are used. These include the famous Mexican character himself, the sun, a bottle of tequila, and Chihuahuas among others.
When you aren't interacting with a Mexican inspired symbol, you'll be familiar with the playing cards that fill out the remaining reels.
The Gamble Feature
If you want action and plenty of it, this casino game will make sure you're never feeling empty.
The gamble feature, which is also used in other Aristocrat slot machines, provides the opportunity to quickly multiply your winnings. Of course, you could also lose everything.
After a winning spin, you can choose to guess the color or suit of a playing card. Guessing the right suit multiplies your payout by 4x, with the right color activating a 2x multiplier.
If you have the nerve to gamble your winnings, you could find your account doubling or quadrupling within a matter of seconds. How's that for action?
Scatter and Wild Reel Symbols
With both scatter and wild reel symbols, every spin can lead to something special.
The Mexican amigo character acts as the wild and has the ability to replace any other symbol, except for the Chili Pepper (scatter).
As with any slot machine, the wild is in play for one reason: to increase your odds of putting together a winning combo.
As noted above, the Chili Pepper is the scatter. You're looking for three or more of these symbols, as this will initiate 10 free bonus spins.
Free Spins Bonus
Now that you know how to enter this bonus game, it's time to learn more about the experience.
The more Chili Pepper symbols you collect on your original spin the more reels there are during the free game bonus.
For example, if you are successful in collecting nine scatter symbols, another reel is added to spice up the action. This goes on and on, all the way up to 30 scatters resulting in a fifth reel.
Note: if you collect 30 scatter symbols, you get more than the extra reels. You'll also find that the wild symbol remains on reels three through five until the end of the free spin game.
Reasons to Play this Casino Game
As you compare More Chilli slots to other games, including those by Aristocrat, you need to decide if this one is best for you.
Here are some of the reasons why this machine has remained a player favorite for so long:
The theme is 100 percent unique, giving players something to get excited about before the reels ever spin.
You can wager anywhere from one cent to $60 per spin, allowing you to do what's best for your budget at any given time.
It has some of the top bonus features in the industry, including a free spin game that will keep you on the edge of your seat.
These are some of the top reasons to play a More Chilli slot machine, but just the same as any game, you can only learn so much by reading a review. At some point, you need to visit a casino and spin the reels yourself.
Interesting Facts About Mexico
Aristocrat could have selected any country for the theme of a slot game, but it decided on Mexico. Do you ever wonder why? While there is no concrete answer, it probably has a lot to do with the excitement based around Mexican culture.
You don't need any knowledge of Mexico to play this machine, but it can be fun to learn more about the background of a game before getting started.
Here are 10 facts about Mexico:
The national language of Mexico is Spanish.
Mexico covers an area of 761,606 square miles.
The population of Mexico as of 2015 was 119,530,753.
Its 2015 GDP was $2.224 trillion.
Mexico is officially known as the United Mexican States.
In 2015, it was the ninth most visited country.
The country is divided into tropical and temperate climate zones.
Mexico is comprised of 31 free and sovereign states.
Mexico has an extensive network of roads that cover the entire country.
Mexico City is both the capital and largest city.
If you've visited Mexico in the past, you may have already been familiar with these statistics and information. However, for those who have never been to this part of the world, all of this may be new to you.
Does this help you formulate a better idea as to why More Chilli slots have become such a big hit?
Final Word
In this review, we've discussed a variety of details. From how to play this game to the bonus features, you should now have a clear understanding of what it has to offer and why you may want to spin the reels in the near future.
If you want to play, your best bet is one of the larger casinos in Las Vegas or Atlantic City, such as the Bellagio.
We consider this one of the top games that Aristocrat has ever released, and this is backed up by the fact that it remains popular many years after its debut.
In addition to playing this machine, you may also want to take a close look at Mr. Cashman slots. This game is similar in many ways, with both a unique theme and plenty of bonus opportunities.
We wish you luck as you make your way through this Mexican themed slot game!