How would you like to find a slot machine game that you can fall in love with? If this sounds intriguing, it may be time for you to play More Hearts slots by Aristocrat.
Although it's similar in many ways to other Aristocrat offerings, such as More Chilli, it still provides a unique playing experience that keeps players engaged and coming back for more.
You'd expect reel symbols to have everything to do with love – and nothing else – but this isn't the case. Instead, you'll find everything from wild animals to gem stones. While this may not be consistent with the title, it doesn't change the fact that you can win a lot of money while enjoying yourself.
An Impressive Setup
Playing a More Hearts slot machine is simple, thanks to the basic 5×5 reel configuration combined with 25 paylines.
Note: there is an optional five credit bet, meaning that More Hearts can actually be considered a 30 payline game. If you opt to activate this feature, it increases the amount of money you can win.
It takes one credit to activate each payline, meaning that 30 credits will set you up with all 25 paylines plus the extra five.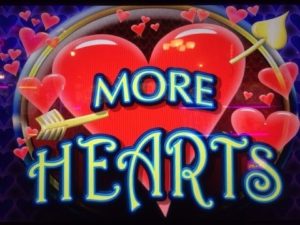 Just like most Aristocrat slot games, you'll quickly pick up on the action. This includes which size wager is best for your budget and how to win. Let's look at some of the basic details that can help you better understand the game:
The diamond symbol not only acts as the wild, but it is also the highest paying. As a wild, it is capable of replacing all others, with exception of the scatter (More Hearts) symbol.
Heart symbols aren't associated with a set value during base gameplay, but this all changes when you enter the Free Spins Bonus round (more on this below).
There are many features and moving parts associated with More Hearts slots. For this reason, the best way to become comfortable with the game is to spin the reels.
The More Hearts Slots Bonus Round
Even if you're enjoying base gameplay, you'll never be disappointed when you gain access to the bonus round.
Finding your way into this game is as simple as collecting three or more More Hearts scatter symbols on the reels. It doesn't matter where these symbols land, as long as you get three of them.
This takes you to the Free Spins Bonus game, while also awarding a payout that is double your initial wager.
Without the five credit ante bet in place, three scatter symbols is good for 12 free spins. With this in place, you're awarded 15.
Once your free spins arrive, don't take your eyes off the screen. Soon enough, the main screen is broken down into four sections. From there, two games simultaneously play.
Note: depending on the number of heart symbols, you may find three or four games running at the same time.
Collecting three or more scatter symbols is the most common way to enter the bonus round, but this can also be awarded at random. This is a pleasant surprise that is sure to add some excitement to your experience.
SlotsJack Says it's a Game to Play
This More Hearts slot machine review should be enough to provide an inside look at how the game is played. There's no replacement for actually spinning the reels, but knowing what to expect can help you hit the ground running.
For a better idea of how the game works and what you can win, this video is a must-see. Thanks to a maximum bet and a little bit (okay, maybe a lot) of luck, this player won 23,850 credits.
You're not going to have this much success every time you play, but there's no denying the potential.
If you only remember a few things about the More Hearts slot game, let it be this:
The optional five credit ante bet puts you in position to win more money.
The Free Spins Bonus game is one of the best you'll find, thanks to the unique four screen layout.
The use of bonus and scatter symbols improve your odds of winning.
Do these features excite you? If so, you need to play More Hearts online or at a land based casino. You may fall in love!