The name may not make any sense to us, but that doesn't change the fact that the Nova 7's slot machine is one of the best to ever be developed by Realtime Gaming (RTG).
With an outer space theme, this game is sure to take you out of this world. While most players have a good time, win or lose, we hope that you get on a hot streak when you sit down to spin the reels.
Outside of the theme, there is one other thing we really like about this online slot game: the use of all the features players have come to expect. From special reel symbols to big multipliers to bonus games, there's nothing lacking – and that makes for a top notch experience.
If you have the courage to blast off and enter the world of the unknown, continue reading the rest of our review. When everything is said and done, you'll have all the information you need to get started.
Spinning and Winning
The 5×3 reel grid is the same as what you'll find with many other RTG machines, including Naughty or Nice (among hundreds of others).
The 25 adjustable paylines give you the opportunity to make the wager that suits your exact budget.
If you're pinching pennies, you can opt to bet $.01 on a single payline. This isn't much, but it's more than enough when you're just getting your feet wet.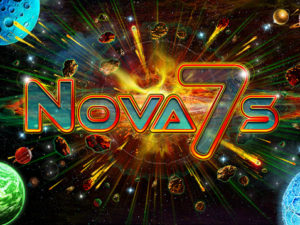 As you move up the ranks, you may find yourself closing in on the maximum wager of $125 per spin. This definitely qualifies Nova 7's online slots as a high roller game. You may never get to the point where you're comfortable wagering more than $100 per spin, but it's nice to know that the opportunity exists.
Play Nova 7's Free Online
The nice thing about online slot games, especially those from RTG, is that you can almost always play for free.
This may not pique your interest, but there are people who enjoy this approach:
Players who are too afraid to wager real money.
Players who don't have real money to bet.
Players who live in countries where online gambling is illegal.
Players who enjoy learning more about a game before putting their cash on the line.
If you fit into one or more of these categories, you might as well play a few games for free. You don't have anything to lose, but you have quite a bit to gain (such as the learning experience).
Shoot for the Moon
Here on earth, slot machine players know that they can't win every time the reels stop spinning. That said, you continue to hope for the best. You continue to believe that the next spin is the one that will turn you into a big winner.
With Nova 7's slots, you can always shoot for the moon. Even if you miss, you may land amongst a pile of stars – and that's typically good enough for a nice payout.
When you collect four or five symbols on the same payline, regardless of which one, you'll receive a decent award. It's nothing to write home about, but any win should be one that you enjoy.
As an experienced player, you probably know that most online slots have a wild and scatter symbol. This is a nice addition to any game, but Nova 7's takes things to the next level.
Let's start out by talking about the Red 7 symbol. This is wild, allowing it to replace any other with the exception of the scatter. Here are the four different wild variations:
Nova: a Red 7 symbol on the third reel will multiply your win by 7x.
Hypernova: with a solar flare on the second reel, you can expect this symbol to take over both reels one and two. If it shows on reel four, reels four and five are covered.
Solar Flare: a Red 7 symbol on the second and fourth reel will cover both reels.
Supernova: a Red 7 with the word nova will cover the reel.
While the Red 7 is powerful, the Blue 7 symbol is just as exciting. When you collect three or more of these anywhere on the reels, the free game bonus is triggered. As the scatter, this symbol does something special: it can multiply any line win by up to 38,073x.
You're seeing that right. While many players are happy when a 1,000x multiplier is in place, the Nova 7's slot machine blows this out of the water.
The bonus feature starts by choosing from one of several seven symbols on the screen. From there, one of these bonus games is activated:
Nova 7: this bonus awards seven free games.
Hypernova Extreme: this triggers the hypernova feature, along with any Red 7 symbols on reel three expanding.
Hypernova 7: not only does this trigger the Supernova 7 game, but a Red 7 on reel three will award a respin after your payout.
Supernova 7: this triggers the Nova 7 game while also multiplying all payouts by seven.
We know that's a lot to take in and that you may not remember all of this when playing. Even so, you know these features are always lurking. That's what makes the game so popular among online players.
The Nova 7's Slot Experience
There are games that leave a lot to be desired, but this isn't one of them. We still don't have a clear idea of what the title means, but that doesn't matter.
Since we provided a lot of information in this review, let us end by outlining our three favorite features:
The 38,073x multiplier.
The power of the Red 7 and Blue 7 symbols.
The option to play for free.
You can compare the Nova 7's internet slot game to hundreds of others, but you'll be hard pressed to find any with such a robust feature set.