Make no bones about it: Realtime Gaming (RTG) has no problem stepping outside the box. This is evident with many games, including the Orc vs. Elf slot machine.
It may not be the same in regards to the theme and features, but in some ways this slot reminds us of Fucanglong. Here's why: it's powered by a unique theme that you won't find anywhere else.
It won't take too many spins to realize that it's based loosely off of The Lord of the Rings. If you're familiar with this novel or film series, it goes without saying that you'll have a deep understanding of the theme and reel symbols.
But even if you don't know the first thing about The Lord of the Rings, you can still get involved. All you need is a basic understanding of how online slot machines work.
A Simple Approach
While there is nothing simple about the game itself (more on this to come), the actual setup and how you play is standard.
There are five reels and 25 paylines. You can wager as little as $.25 or as much as $6.25. If neither of these options work for you, consider these denominations:
$.50
$.75
$1
$1.25
$1.50
$1.75
$2
$2.25
$2.50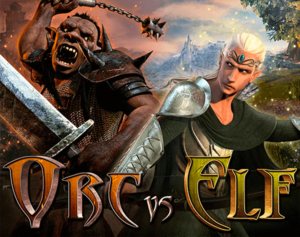 With so much flexibility, players find it easy to settle on a bet that suits their style and budget.
Free Orc vs. Elf Slots
If wagering real money doesn't pique your interest, it doesn't mean you have to completely forget about this game.
You can play for free online, which allows you to enjoy the action without any risk of losing your hard earned cash.
There are many groups of people who flock towards free slot machines, including those who are not permitted to play in their country and those who like to learn more before taking a risk.
Getting Started
Before you do anything, you need to choose a side. Will you team up with the Orc or the Elf? Either way, you know that you're in for a good time. Our suggestion: experiment with both, as this will give you a clear idea of which one suits you.
You can win prizes for collecting all types of reel symbols. For example, five crossbows or swords are good for a payout of 125 coins. Or maybe you're lucky enough to land a group of Elveros, which will add 1,000 coins to your account.
The Battle Bonus is where this game really takes on a life of its own. This is triggered when you land three or more Elf shield or Orc shield symbols on the second, third, and/or fourth reel.
Three symbols trigger the bonus round
Four symbols trigger a 5x multiplier of your initial wager and the bonus game.
Five symbols are good for a 20x multiplier and access to the bonus.
If you do battle and come out on top, you'll find yourself picking up a feature from the Feature Trail bonus. Even if you lose, however, you're still awarded up to 10x your wager.
The Feature Trail comes about when you collect three or more Elf shield or Orc shield symbols anywhere on the screen. This is in contrast to the Battle Bonus where you have to get the symbols on reels two, three, or four.
It doesn't matter if you're playing the Orc or Elf version, you're taken away to a special trail: the Trail to Orcholme (for Orc players) or the Trail to Elveros (for Elf players). It's at that time that you're prompted to select one of the following features:
Ancient Archer
Archmage
Elf King
Elf Magic
Forestal
Huntsman
Woodland Spins
We know what you're thinking: this is all too confusing. We agree, but once you enter the bonus game everything will clear up.
Orc vs. Elf: Cool Theme, Average Gameplay
We agree that anyone can have fun playing an Orc vs. Elf slot machine online. However, the game itself could be better.
While we enjoy the many features, as well as the ability to play for free, things can become confusing and cluttered at times. For this reason, you really need to play the game yourself to better understand what it's all about. Who knows, you may fall in love with one of these crazy characters!