The Outback Jack video slot machine, developed by Aristocrat, attracts players with its unique Australian Outback theme, a variety of bonus features, and plenty of potential for a high payout.
The Australia Outback is an interesting place, which explains why the company decided to use it as a theme for one of its games.
As you sit down and become familiar with the machine, you'll realize that the graphics and animation is on par with most games manufactured by Aristocrat.
From a playing perspective, it's good to know that this is a 5-reel, 30-payline machine. Yes, this is a basic configuration shared by many other slots, but it's got plenty to offer all types of players.
Note: you can wager one, two, three, five, or ten credits. This flexibility helps ensure that players of all budget levels can comfortably get involved.
The Reel Symbols
Everything about Outback Jack slots is consistent with the theme. This is particularly true of the reel symbols, which include but are not limited to:
Koala bears
Kangaroos
An image of "Outback Jack" himself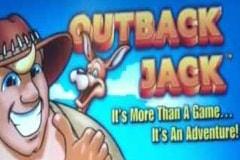 Along with these one of a kind symbols, Aristocrat filled out the reels with playing cards ranging from ten through ace.
Note: a map of Australia acts as the scatter symbol, with a boomerang serving as the wild.
Full of Bonus Games
Even if you enjoy base gameplay associated with a particular machine, there's nothing more exciting than a bonus game. This feature typically adds to the excitement, while also providing more ways to win.
Outback Jack never disappoints in regards to bonus features, thanks to the fact that there are six of these available to players.
Activating the bonus games is as easy as collecting three or more scatter symbols. While this is simple in theory, it's not something you should expect with every spin of the reels. We've heard from some players that it's extremely difficult to gain entrance to a bonus game.
Each of the following bonus games provides a special experience:
Gold Mine Bonus
Big Rock Bonus
Nippy Surf Bonus
Great Sandy Desert Bonus
Fishing Spot Bonus
Winding River Bonus
Unfortunately, you don't have the opportunity to choose which bonus round you enter. Instead, the machine makes the selection for you.
Note: although each bonus feature is different, you always have the ability to collect more free spins or boost the number of credits in your account.
What is the Jackpot Card Game?
As if the above bonus features aren't enough, the Jackpot Card game adds even more excitement.
During any spin, you can randomly win this game. You have no idea when or if it's coming, but if it does you'll enjoy the end result.
You can win one of two progressive jackpots, with the bigger of the two starting at $900.
Why the Outback Theme?
If you've visited the Australian Outback, you know why Aristocrat selected this theme. If you haven't, you may be a bit confused.
Here are some facts regarding this part of the world:
In addition to tourism, the area is known for its agriculture and mining.
Its population is approximately 700,000.
There are many tourist attractions in the Outback, including Monkey Mia, Mount Augustus National Park, and Kings Canyon.
These details won't help you play or win, but they should provide some background regarding the theme.
Our Outback Jack Slot Machine Review
At this point, we hope you have a clear understanding of the game, including the many features that have made it a player favorite.
We realize that it's not the most advanced, but it still has plenty to offer thanks to multiple bonus features and the ability to win a progressive jackpot.
If an Outback Jack slot machine doesn't suit your fancy, you may want to learn more about Big Red slots by Aristocrat. It shares a similar theme, all the while providing its own unique experience.