What do you get when you combine a magical theme with one of the most interesting animals in the world? Well, if you're playing online slots, the answer is simple: Panda Magic.
This machine from Realtime Gaming (RTG) is a player favorite for many reasons, including the fact that it uses a basic 5-reel layout with 1,024 ways to win. This is the same setup used in other games, including Fucanglong to name just one.
As one of the newest offerings by RTG, it's only natural for players to be excited about what it brings to the table. However, the shiny look and feel only goes so far. At some point, a slot game has to stand on its own two feet. And that's exactly what this one does.
In addition to the theme, there are a variety of other reasons to play – all of which we discuss below.
Before we get to that, keep in mind that Panda Magic slots can be played on all types of devices. From a desktop computer to a smartphone to a tablet, you're covered. As long as you're using an iOS or Android device, it's safe to assume that you can enjoy the mobile experience.
What's the Deal with the Theme?
This isn't your average, every day slot game based on a popular animal, such as the Buffalo Grand machine.
Instead, this one kicks things up a notch by turning the panda into a mystical and magical figure that can help you win huge money (the top payout is 2,000x your wager).
There are players who don't enjoy the early online slots developed by RTG. There are also players who have come to find that the company continues to improve, with many of its newest offerings, such as this one, on par with the best that the industry has to offer.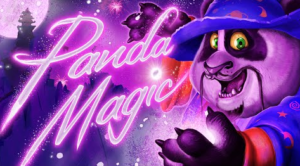 Everything about the game is based around a magical panda character, with reel symbols including but not limited to: owl, mushroom, potion bottle, and a book.
The thing we like best about the Panda Magic slot machine theme is the consistency. While the panda himself is always in charge of the game, the magical theme never goes by the wayside.
How Big Will You Bet?
With some online slot machines, you don't have much flexibility in terms of how much you can bet. You'll never run into this problem here.
On the low end, you can spin the reels for as little as $.50. This is higher than many games from RTG, but it's not so much that it alienates a large group of players.
On the high end, things can really get interesting. With the ability to wager a maximum of $250, this is definitely considered a high roller casino game. Most people will never bet this much on a single spin of the reels, but the opportunity is always there if you have the nerve.
As noted above, Panda Magic doesn't use a traditional layout with a set number of paylines. Instead, it uses an "all ways pays" system that offers 1,024 ways to win.
The scatter symbol is used to trigger the free spin bonus round. This doesn't come about as often as we would like, but upon entering (if you're lucky enough to do so) you're awarded 20, 25, or 30 free spins.
The wild symbol comes to the forefront in two ways. First off, you can find it as a fixed symbol during base gameplay. It's used to help you form a winning combination.
Secondly, this can show up during the free spin bonus feature. When this happens, you could be awarded expanding wilds, three additional wild symbols, or every so often, both.
Why the Panda?
You won't fully understand that there is more to this game until you actually sit down and play. The panda alone is an intriguing animal, with these facts sure to open your eyes:
Also known as the great panda, white bear, and bamboo bear.
A giant panda can grow up to five feet tall and weigh as much as 300 pounds.
Pandas are found in many zoos throughout the world, but in the wild they only live in central China.
The panda is cool enough on its own, but when you add some magic touches you have an animal that makes for the perfect central figure for an online slot game.
Play the Panda Magic Slot Machine
We hope this information is enough to help you better understand what the game is all about.
By now, you should be able to tell that we're big fans of the theme. This is what attracts many players, but there are other features, such as the 1,024 ways to win, that are every bit as exciting.
One last thing worth noting is that you can also play Panda Magic online for free. Although real money is not required, you can still enjoy the many features of the game.
Note: if you're attracted to the theme, you should give Wild Panda slots by Aristocrat a try as well.