If you're going to get involved with classic Aristocrat slot machines, you owe it to yourself to experiment with Phoenix Fantasy. Not only has it been a player favorite for many years, but you have the option to play both online and in land based casinos.
The theme and longstanding history of the game are enough to continually attract players, but its benefits run way deeper than that.
As a video slot machine with 5-reels and 20-paylines, the configuration will never confuse you. Add this to the potential to win a 2,500x coin jackpot and you have a special game for all types of players.
How to Play and the Many Ways to Win
If you can't tell by the title, this game is based on the story of the phoenix. It may not be the only slot with ties to Greek mythology, but you'll be hard pressed to find one that has more to offer.
Players who are familiar with Aristocrat slots have come to expect the best of the best in regards to visual style and audio. Phoenix Fantasy slots is no different, with each reel symbol coming alive.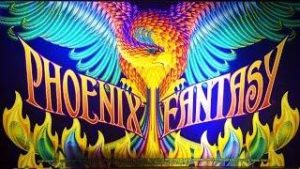 Below, we'll discuss the many ways to win. But before we do that, let's examine the most powerful symbol in the game: the Phoenix.
When you collect five of these on an active payline the end result is a 2,500 jackpot. This is the top prize, so it is the one symbol that you always want to see.
Note: in addition to its jackpot power, the Phoenix symbol also acts as the wild. It can replace any other symbol, which increases the likelihood of a winning combination.
Note: you have the option to activate 1, 5, 10, 15, or 20 paylines.
The Scatter Symbol
Although the Phoenix symbol is the most powerful, the blazing sun, which acts as the scatter, is right up there in terms of importance.
If you land three or more of these in any position, you will receive eight free spins. It's then that you have an even better chance of winning the jackpot, and here's why: the palm tree, snake, and temple symbols are turned wild. These can all stand in for the Phoenix, which greatly increases the odds of a jackpot win.
Base Gameplay Payouts
Playing a Phoenix Fantasy slot machine in base form is more exciting than many other games. Free spins will always put a smile on your face, but you don't want to wish away the rest of your experience.
Thanks to the traditional configuration, knowing when you've received a winning combination is straightforward. Here's a closer look at some of the paytable payouts:
Two 8, temple, or phoenix symbols on a payline is a winner.
Two 8 symbols is the most common winner, paying at 2x.
Five 8 symbols pay 100x.
Five palm tree or snake symbols pay 500x.
Five temple symbols pay 1,000x.
Five phoenix symbols pay 2,500x.
As with any slot game, the more you wager the greater the potential return.
Why Play Phoenix Fantasy Slots?
With hundreds of Aristocrat offerings to choose from, it can be a challenge to settle down and spin the reels with confidence. Fortunately, when you play this machine, you'll always be happy with your decision.
Here are some reasons to play:
Many ways to win big payouts.
The use of both a wild and scatter symbol.
The opportunity to regularly win eight free spins.
Engaging and visually appealing graphics.
Easy to understand base gameplay.
Note: the land based and online version are identical, so if you know how to play one you won't have trouble understanding the other.
If you want all your casino fantasies to come true, this game is a great place to start. For example, here's a video of a player hitting for 5,586 credits during the free game bonus. Even if you aren't this lucky, it shows that there is plenty of opportunity for big payouts.
A Phoenix Fantasy slot game is every bit as fun as it sounds, with many considering it one of the best to ever reach the market.
SlotsJack tip: if you enjoy this game, you should also play Sun and Moon slots.