Video Gaming Technologies (VGT) is the company behind the ultra successful Polar High Roller slot machine game.
It's in the same class as many others from this company, including but not limited to Crazy Cherry and Mr. Money Bags.
As a 3-reel mechanical game with one payline, it's one of the simplest games to learn. And with a three coin maximum bet, you never have to worry about laying too much on the line for the chance to win.
Important Game Details
VGT shares a variety of information regarding Polar High Roller slots, making special note of the following details:
Powered by the Live-Call Bingo real-time bingo engine
Denomination options of $2, $3, and $5
Top award of 10,000 credits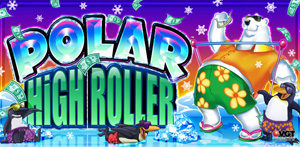 Setting this game apart from others is the ability to bet up to $15 per spin. You don't have to do this, but it's a great strategy for those who like a little more action.
As you make your way through base gameplay, hopefully winning some money, you should keep your fingers crossed to enter the Red Screen Free-Spin bonus. This is when the real fun begins.
This feature is shared by many VGT games, and for good reason: every player enjoys a few free spins every now and again.
Along with the free spin feature, Polar High Roller slot machines are often equipped with one or more of seven additional bonus rounds. For example, Pick a Safe and Pick a Pot are two player favorites.
Other Variations of the Game
If the original version of Polar High Roller doesn't suit your playing style, you have a couple other options from VGT:
Polar High Roller Free Spinnin'
Polar High Roller Red Spin Multipliers
Although the same basic theme is in place, both these games are 100 percent unique when compared to the original.
For example, Polar High Roller Free Spinnin' is a 5-reel mechanical game. Along with the two additional reels, it includes extra features such as:
9-paylines
Maximum bet of 180 credits
Denomination options of $.01, $.02, $.05, $.10, and $.25
Top payout of 392,000 credits
Now do you see how these two games are different? With this variation, betting denominations are much lower. However, the maximum bet is way higher.
Tip: if you're going to play one version of Polar High Roller slots you might as well experiment with all three. This gives you the opportunity to see which one best suits your budget and betting style.
A SlotsJack Favorite
The theme alone makes all three versions of this game exciting to play. When you add in a variety of high level features, you have a game that will continue to attract players for years to come.
At SlotsJack, we are big fans of VGT slot machines. Adding to this, Polar High Roller is one of our all time favorites.