Playing a Pompeii slot machine is a favorite pastime of many casino goers. As one of the most popular games in land based casinos, don't be surprised if you have to wait your turn to spin the reels.
The unique theme, combined with fast paced action and plenty of extra features, have allowed this game to thrive for many years.
While you may not know much about the ancient city of Pompeii, it's safe to assume you'll pick up some knowledge as you play this game.
What to Know About Pompeii Slots
Before we get into the finer details of Pompeii slot machines, it's important to note that you can play online and at brick and mortar casinos. This is extremely convenient, especially for those who don't always have the time to visit a local establishment.
Aristocrat Technologies is the company behind this game, and much the same as others, such as 5 Dragons, it's packed full of features.
With a 5×5 reel configuration, Pompeii is a straightforward casino game that's perfect for both new players as well as experienced casino veterans.
Note: thanks to Reel Power technology, there are 243 ways to win.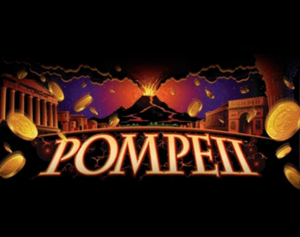 On the low end, you can opt for the starting wager of 25 credits. However, if you're feeling lucky and want the chance to win the jackpot, don't hesitate to push your wager to the maximum of 125 credits.
Winning the jackpot of 12,500 coins means two things:
You made a maximum wager.
You collected five amulet symbols on any of the paylines.
Known for its high payout percentage, it's not out of the question to find yourself sitting at a Pompeii slot machine for hours on end.
Adding to the overall excitement of the game, reel symbols are a blast from the past. These include but are not limited to images of Caesar, Mount Vesuvius, and the city of Pompeii itself.
Bonus Rounds and Extra Features
With a high payout percentage, base gameplay will keep you focused on the screen at all times. But when you make your way to a bonus round, the action really picks up.
Acting as the wild symbol, the volcano is one that you want to keep an eye on. If you land this symbol on the second reel, a 3x multiplier is activated. If it lands on the fourth reel, things get even better with a 5x multiplier. And for the most action, a volcano symbol on reels two and four results in a 15x multiplier.
With any of these multipliers in place, it's only a matter of time before your winnings quickly grow.
If the wild bonus isn't enough to get you excited, maybe the scatter symbol will do something for you. The gold coin acts as the scatter, awarding you a minimum of 10 free spins. Here's how it works:
Three scatter symbols award 10 free spins.
Four scatter symbols award 15 free spins.
Five scatter symbols award 20 free spins.
Regardless of which bonus round you're playing, know this: it can be retriggered multiple times, giving you even more chances to win.
An Online and Land Based Casino Experience
Aristocrat is responsible for some of the most popular slot machine games in land based casinos, especially in the United States. In addition to Pompeii slots, you'll find many other high quality games from this company.
For those times when you'd rather play online, you have two options: play for free or play with real money.
Free Pompeii slots continue to be a popular choice, thanks to the opportunity to soak up the action without risking your own money.
Conversely, those who want to chase after the 12,500 coin jackpot will want to play with real money. Even if you don't hit for the top prize, the bonuses put you in position to take home a nice sum of cash.
The History of Pompeii
Knowledge of Pompeii is not necessary to play this slot machine, but it never hurts to improve your knowledge base. Here are a few facts that you may find interesting:
Pompeii was destroyed in 79 A.D. when Mount Vesuvius erupted.
Approximately 2,000 people died as the result of the volcanic eruption.
The natural disaster left the city abandoned for several thousand years.
In 1748, explorers came across the site and realized that the city was largely intact, albeit under quite a bit of debris.
The excavation of Pompeii continues, with researchers just as intrigued today as they were hundreds of years ago.
With this type of history, there's no wondering why Aristocrat decided to develop a game based on Pompeii.
Final Thoughts
When you play this casino game there is never a break in the action. Even when you aren't winning, the theme, graphics, and audio will keep you engaged.
The first time you play a Pompeii slot machine you may not know what to expect. But once you make a few wagers and experience the excitement, don't be surprised if it quickly becomes one of your favorite games.