With a theme similar to Cleopatra slots by IGT, a popular casino game, it's not hard to believe that Queen of the Nile has a large following as well.
Developed by Aristocrat Technologies as an online slot game, this machine has an Egyptian theme, plenty of bonus features, and many ways to win big payouts.
Let's start out by saying this: Queen of the Nile slots has been attracting players from all over the world since its release in 1997. Not only has this game remained popular with each passing year, but additional releases – such as Queen of the Nile Legends – have helped to keep it on top.
Game Details
Playing a Queen of the Nile slot machine is a straightforward experience. You have to make two key decisions before each spin of the reels:
Number of paylines, ranging from 1 to 20.
Number of coins wagered per payline, ranging from 1 to 50.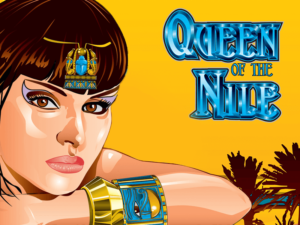 With the ability to bet up to 1,000 coins per spin, this game attracts high rollers who love a good online experience. Of course, the opportunity to bet a single coin helps it attract those who are more budget minded.
It doesn't matter how much you bet, there is always a chance to win a good amount of money.
On the low end, a winning combination is good for two coins. As you wager more and bring wilds into the equation, winnings can bump up to 9,000 coins.
Scatter Symbols
The scattered pyramid symbol brings an additional level of excitement to Queen of the Nile slots.
When you collect three or more of these, you are automatically granted 15 free spins. Even better, all wins during the free spin round are multiplied by three.
Awarded at random, you never know when the scatter symbols will lead you to the free spin game. But when this does happen, hold onto your seat and get ready for high paced action and plenty of winnings.
Play Queen of the Nile Free Slots Online
As an online slot machine, you have the unique opportunity to play Queen of the Nile both for free and with real money.
Real money versions of the game are most popular, as this allows you to wager money for the chance to win big.
However, free Queen of the Nile slots continue to attract players who are interested in fun without any monetary risk.
As you play a few free games, keep in mind that the lessons you learned can be applied during real money wagers in the future.
Who is the Queen of the Nile?
Above, we discussed how this game is similar to Cleopatra slot machines. The reason for this is simple: Cleopatra VII Philopator was known as the Queen of the Nile.
Here are a few things you may not know about her:
She was born in 69 BC and died in 30 BC.
It is believed that Cleopatra killed herself by inviting a cobra to bite her.
Cleopatra is well known for her beauty.
You don't need to know anything about Cleopatra to play this game, but it's interesting to note that any game associated with her or Egyptian culture seems to be popular among players.
The Final Verdict
Walk through any casino and you're sure to find a few Egyptian themed slot games.
For those who are interested in online play, Queen of the Nile slots is a great place to start. Aristocrat Technologies has done everything right with this game from day one, which is why it has remained a player favorite for so many years.