If you want action, try watching a movie about World War 1. From start to finish, you'll be tuned in and wondering what'll come next.
Red Baron slots provide the same type of experience, and here's why: the game is based on the famous World War 1 pilot, Manfred Albrecht Freiherr von Richthofen, who was known by many as the Red Baron (more on him below).
The theme never waivers, thanks to audio and graphics from the World War I era. Along with this, reel symbols include everything from planes to targets to radios.
While some slot machines never live up to its theme, this isn't the case here. You'll always know exactly what you're getting when the reels begin to spin.
Winning at a Red Baron Slot Machine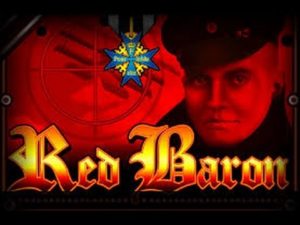 Sharing a configuration with many other Aristocrat slot machines, this game is equipped with 5-reels and 243-paylines. Here's a few things other things you need to know about playing and winning:
The minimum wager is $.01, with a maximum bet of five coins per reel.
The maximum wager is $125 per spin, making this a game that high rollers have come to enjoy.
The top jackpot is $37,500, which is higher than most slot machines by Aristocrat.
Note: if you enjoy this game, you should also check out Silk Road slots. It shares many of the same features, including the unique reel and payline configuration.
Bonus Action
Even though you can win a lot of money in base gameplay, thanks to the 243 paylines, you don't want to miss out on the action provided by the bonus rounds.
The first thing to know is that the iron cross symbol turns into a wild if it lands on the third reel. It can then replace any other symbol, allowing you to more easily create a winning combination.
Note: when the wild triggers the free spin round, you are awarded several free games along with an 8x multiplier.
Another bonus comes into play when you collect a minimum of three target symbols. When you land these on reels two through four, 15 free spins are added to the game.
There's more to this free spin bonus than meets the eye, as you are asked to guess the number of target symbols that will appear on the next spin. If you're correct, your winnings are multiplied by up to 140x, making this one of the highest paying bonus games in the casino.
A Famous Pilot
Although the Red Baron only lived for 25 short years, the German fighter pilot made a name for himself for his 80 air combat victories.
These facts aren't crucial to playing Red Baron slots, but they'll help give you a better idea of what the theme is all about:
His years of service spanned from 1911 to 1918.
He received many decorations and awards for his prowess in the sky.
He has been regularly referenced in popular culture, such as in the song "Snoopy vs. the Red Baron" by The Royal Guardsmen.
Now do you understand why Aristocrat decided to build an entire slot game around this legendary pilot?
A Free Online Casino Game
Just as easily as you can sit down and play in a land based casino, you can find this machine online.
Playing online gives you the opportunity to wager real money or spin the reels for free.
Free Red Baron slots have become a popular choice, thanks to the action associated with the game and the theme that keeps you engaged.
If you grow tired of playing for free, you can move onto the real money version of the game. When this happens, you'll find yourself hoping for entrance into the bonus rounds and praying to hit the jackpot.
Final Thoughts
No matter how hard you try, you're not likely to find many games with a more unique theme than this one.
Aristocrat put a lot of time into developing the Red Baron slot machine, which is evident down to even the smallest of details. Even if you have no interest in the theme, the bonus rounds and huge jackpot make it a game worth playing.