As you play the Red Sands slots machine from Realtime Gaming, don't be surprised if you get the feeling that you're trekking through the Simpson Desert.
Of course, you don't have to worry about all the challenges that go along with this part of Australia. Instead, you can sit back, spin the reels, and hope that you have the time of your life.
The theme does its part in making the game a big hit, but don't assume that there's nothing else to enjoy. There are plenty of features that will have you doing a double take, wondering if you're really playing an online video slot.
Bet and Spin
It can be frustrating to come across a slot machine that doesn't offer enough betting options. That's not a concern with Red Sands, as you can choose from a variety of denominations on anywhere from 1 to 20 paylines.
Once you choose the number of paylines, you can then select a bet amount starting at $.01. What this means is simple: you can spin the reels for a single penny.
For high rollers, there is an opportunity to bet $5 per payline for a total wager of $100. This is the same setup as Rain Dance online slots, which is another game that attracts many players because of its flexibility.
Play Red Sands Free Slots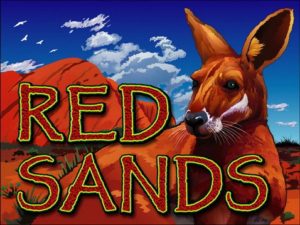 Even though this penny slot machine is extremely affordable (if you want it to be), there's one other option to consider: playing for free.
When you opt against real money play, you remove all risk associated with the game. Even so, you don't eliminate the ability to have a good time. You still have access to the same features and all the fun that comes along with them.
Note: no matter if you're playing for free or real money, Red Sands can be played on all types of mobile devices. This includes those that are powered by the Android and iOS operating systems, as well as others such as a Kindle tablet or BlackBerry smartphone.
The Journey is Here
With all the basics out of the way, it's time to learn more about the most important details associated with Red Sands slots.
The playing card symbols – including 9, 10, jack, queen, king, and ace – can payout as much as 200x. This is on the low end, however, as five kangaroos (this is the wild) will award 5,000 coins.
In addition to the wild, there is also a scatter symbol (moonscape). Two or more of these trigger a payline multiplier of up to 50x, as well as a re-spin feature that allows the reels to re-spin as many as 10 times.
A Big Progressive Payout
You're not likely to find a wad of cash in the desert, but that won't stop you from dreaming of this every time the reels stop spinning.
Awarded at random after any spin, win or lose, the progressive jackpot often reaches $5,000. Even after somebody wins, it will never dip below $1k.
A Simple yet Exciting Game
There are many words you can use to describe the Red Sands slot machine, but none are better than "simple." Everything about it – from the configuration to the bonus features – is easy to understand.
If you like above average base gameplay payouts, extra features, and a nice sized progressive jackpot, you can stop your search. You're in the right place!