There's nothing overly exciting about Rhino Charge slots, however, this game has a way of attracting players who enjoy a simple experience with many ways to win big.
As noted by Aristocrat, Rhino Charge does a great job of attracting players over and over again. While base gameplay will keep you engaged, the real fun kicks in with the wild multipliers and free games.
Best yet, it comes equipped with stacking bonus symbols, giving you the opportunity to win as many as 450 free games. Can you imagine how long it would take to get through all of these? By the time you're complete, your bottom line is sure to bring a smile to your face.
Game Details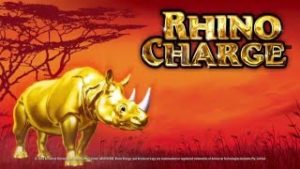 With a standard 5-reel, 30-payline configuration, this video slot game is nothing out of the ordinary in regards to its setup. For some, this is a disappointment. For others, this is the best type of machine. It's straightforward and easy to understand.
As the reels spin, you'll find the following symbols coming into play:
Playing card values ranging from nine through ace.
Rhino
Meerkat
Giraffe
Zebra
Tourist
In other words, all of these reel symbols (except the playing cards) are something you'd expect to see on an African safari.
With 30 fixed paylines, Rhino Charge gives you the maximum opportunity to land a winning combination.
On the low end, nine through ace all pay at the same rate. Three of any of these symbols on the same payline will pay 5x your original wager. With four symbols you win 15x your bet, and with five you win 50x.
These may not be the biggest wins, but it's more than enough to keep you in the game until something else comes along.
Speaking of something else, let's move all the way to the top of the paytable. This is where the tourist symbol sits. Here's how the payout works:
Two on a payline: 10x
Three on a payline: 40x
Four on a payline: 150x
Five on a payline: 500x
Note: forming winning combinations is much easier when you take into consideration the sunset symbol, which acts as the wild. This alone doesn't win you any money, but it can replace any other symbol to form a winning combo.
Experience a Bonus Game
You already know you can win a lot of money during base gameplay. Now, let's examine the potential associated with each bonus game.
Any time you collect three, four, or five of a kind with a golden rhino symbol, you're awarded free spins.
Three symbols: 8 free spins
Four symbols: 10 free spins
Five symbols: 15 free spins
In the event that multiple paylines of golden rhinos appear, you'll receive something special: 20 free spins plus the option to choose another bonus game. Here's what you can choose from:
Free spins. This allows you to continue spinning the reels for free until all your spins are used.
Super free games. With this, some free spins are taken off the board. However, larger stacks of symbols are added. This increases the chance of activating multiple paylines, thus winning more money.
Bonus prize. Are you willing to give away all your free spins for the chance to win a random prize?
It may take some time to be presented with the opportunity to choose a bonus game. If you find yourself in this position, think carefully about what you do next. This is one of the top features of the game, so you want to make a good selection.
The Rhino Charge Slot Machine Theme
The rhino, short for rhinoceros, is one of the most amazing animals in the world. It's big, it's powerful, and above all else, it's a thing of beauty. Here are some facts you may not know:
The rhino has a thick protective skin.
There are many types of rhinoceros, including: white rhino, black rhino, and Indian rhino.
Depending on the species, these animals can live up to 50 years.
It's not uncommon for a black rhino to reach speeds of up to 35 miles per hour.
A white rhinoceros can weigh more than 5,000 pounds.
These facts don't have anything to do with the Rhino Charge slot game, but they offer some insight into why Aristocrat selected it for a theme.
Final Thoughts
Rhino Charge gives players many reasons to stay seated for a long period of time. This includes high payouts, bonus games, and an attractive theme.
If you want to learn more about the game, watch the official promo video released by Aristocrat.