The Samba Sunset slot machine is similar in style to Ronin, with each one based on a theme closely related to a particular part of the world.
The samba is a well known rhythmic Brazilian dance that has a way of getting people out of their seat and onto the dance floor. While the dance itself can be loads of fun, this is nothing when compared to the excitement of the Realtime Gaming (RTG) slot.
It's easy to get caught up in the theme itself, overlooking the fact that there are many other features that allow this game to stand out from the hundreds of others that players can immediately access via the internet.
For example, there are two nice sized progressive jackpots coupled with 243 ways to win during base gameplay. It's these types of details that open your eyes to everything the game can offer.
Start on the Right Foot
Just the same as the dance itself, you always want to start on the right foot. When it comes to Samba Sunset slots, this means knowing your many betting options.
The number of paylines is fixed, meaning you only have to decide how much to wager. You'll need to part with a minimum of $.25 per spin, which makes it more expensive than many RTG games.
However, on the plus side, the top wager is only $6.25, which fits into the sweet spot for many bettors.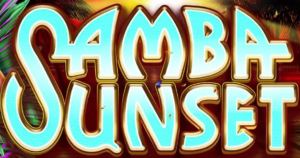 With five reels and 243 ways to win, it's extremely easy to watch the action unfold on your screen. Once you make a bet and click "spin," the reels will takeoff and the action will begin.
A Great Game for Free Players
Playing Samba Sunset slots online for free is also an option. This is the right choice for players who aren't on board with the idea of wagering a minimum of $.25 to spin the reels.
The free game also comes into play for those who don't fully understand what they're up against. This affords the opportunity to learn more, such as how the game is played and how you can win, before you part with real money.
No Download and a Mobile Option
There are still players who don't mind downloading software to play online slots. Of course, there are many more who are intrigued by no download casinos.
The ability to play Samba Sunset with no download will make you happy, as this gives you the opportunity to quickly get up to speed.
A mobile option is also an important feature, as smartphones and tablets continue to grow in popularity.
Many Reasons to Play
With so many RTG games to consider, it's hard to narrow your options and decide which one is right for you. Samba Sunset makes this easy, thanks to many top flight features that stand out.
As noted above, there are 243 ways to win. This is an awesome feature, especially for players who are interested in hot and heavy action. Even small wins will put a smile on your face.
You'll learn more about the game as a whole as you play, but here are some other details to help you understand what's to come:
The wild symbol can replace all others, with exception of the scatter, with this appearing on the second and fourth reel.
Three or more scatter symbols moving from left to right activates the free spin feature. Free games are awarded 10 at a time, with the ability to re-trigger five more along the way.
There are extra features added during the free spin game, such as a wild symbol that doubles all payouts and a dancer that triggers a 3x multiplier.
Two Progressive Jackpots
RTG is one of many online slot machine companies that offer a progressive jackpot in most its games. This one is no different. In fact, it's better than some because there is both a minor and major jackpot.
While not always the case, we typically see the minor payout in the $500 range. The major, however, usually pays out between $2,500 and $5,000.
Winning either one will get your blood flowing, much the same as those samba dancers who never stop moving.
Dance Your Way to Winnings
Samba Sunset slots are based on the famous dance, but you only need to have two things on your mind: spinning the reels and winning money.
At SlotsJack, we don't have many people on our team who know how to dance. But even if you fit this mold, it shouldn't stop you from playing this online video slot machine. It includes a variety of nice features, such as our favorite: the two progressive jackpots.