Although the Sevens and Stripes slot machine game isn't as old as the American flag itself, there are many features that give it a traditional feel.
Thanks to Realtime Gaming (RTG), there is yet another game for players to fall in love with. While this one may be slanted towards players in the United States, those from anywhere in the world can enjoy the simplicity and features.
One of the first things you'll notice is that the stars on the flag have been replaced with lucky 7 symbols, which is pretty much what you would expect from a casino game.
In addition to the red, white, and blue theme – something else that you would expect – you'll notice the 3-reel, 1-payline layout. Yes, you read that right. There is only one payline accompanied by three reels. Now do you believe us that this is an "old school" slot game?
It's Retro and it Works
You can wager anywhere from five cents to five dollars, giving you an option on both the low and high end. In between, you can bet $.25, $.50, or $1. Yes, there are other games with more flexibility, but some people find that this is all they need.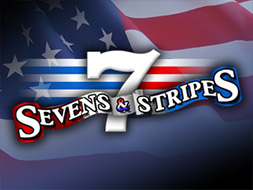 RTG also provides the opportunity to play Sevens and Stripes slots for free. Some people do so because they want to learn more about the game before they wager real money. Others do so because they simply want to have fun, and the opportunity to win cold hard cash has no impact on their ability to do so.
Basic Format, Big Wins
With three unique bars and three colored sevens, you'll never get confused as the reels spin.
It doesn't matter if you play one, two, or three coins, nothing changes the fact that there are many ways to win. That said, the only way to win the top jackpot of 10,000 coins is to wager three coins. This happens if you collect a red, white, and a blue seven symbol on the payline.
On the low end, you can win four coins for receiving three any bar symbols with a single coin wager. Other top prizes include:
5,000 coins for three red seven symbols with a three coin bet.
4,800 coins for a red, white, and a blue seven symbol with a two coin wager.
2,400 coins for a red, white, and a blue seven symbol with one coin played.
Despite the fact that the layout is as basic as they come, this helps keep the game moving at a fast pace. You don't have to stop to wonder what's going on. You can simply glance at the screen, see if you've won, and move on from there. There are no bells and whistles that get in the way, making you wonder what to do next.
Celebrate by Playing Sevens and Stripes Online
If you want to celebrate the United States and its history, if you want to celebrate the early days of slot machines, you've found what you're looking for.
At SlotsJack, we always enjoy a game packed full of features, such as the Sky Rider 2 slot machine with its 5-level SAP jackpots and variety of bonus games.
We also have a soft spot for those that take us back to the past. A game like Sevens and Stripes will have you wondering what it was like when every slot machine was simple to play and understand.