There are many words to describe a Shaman's Magic slot machine. Some call it basic. Others call it magical. And of course, there are those who refer to it as an all around favorite.
Aristocrat always finds a way to bring out the best in a game, and that's definitely the case with this one.
While similar to Shaman's Dream in many ways, it's carved out a niche among players who enjoy down to earth offerings that don't skimp in regards to payouts and bonus features.
Before we go any further, it's important to understand the definition of shaman. In short, this is a person who is believed to have the power needed to act as an intermediary between the supernatural and the world as we know it. Furthermore, these people are said to have magical powers, such as the ability to see into the future and cure diseases.
Whether or not you believe in the power of a shaman is your decision. Either way, this shouldn't impact your ability to play.
Find a Seat and Spin the Reels
Shaman's Magic stands out in the crowd for many reasons, including its 5-reel setup that isn't accompanied by a set number of paylines. Instead, like many Aristocrat games, you're given 243 ways to win.
Although many argue that Shaman's Magic lacks the animation, graphics, and sound quality of some other machines, this doesn't have an impact on the amount of fun you have and how much you can win.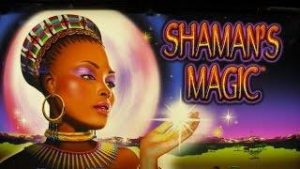 In fact, some people enjoy the fact that it's a straightforward experience, as they don't like too many bells and whistles getting in their way.
Chase After a Big Win
With a little bit of magic on your side, you never know if you could walk away a big winner.
The amount of money you can win is based on two factors: how much you wager and the reel symbols you collect.
As a general rule of thumb, larger bets give you a greater chance of winning more money.
Reel symbols include:
Herbs
Drum
Horn
Mask
Shaman
9
10
Jack
Queen
King
Ace
The playing card symbols are attached to the smallest payouts, however, you shouldn't turn your back to these.
For instance, five ace symbols on adjacent reels is good for a payout of 200x.
Of course, what you're hoping for is a winning combination with one of the more unique reel symbols.
Get this: five mask symbols on adjacent reels is attached to a 1,000x payout, which is the most you can win in base gameplay.
Plenty of Extra Features
Aristocrat is the king of adding extra features to its slot machines, knowing that this gives players more reason to not only sit down but to also stick around.
A wild symbol, which shows on the screen as an eclipse, can stand in for all others as a means of forming winning combinations.
The scatter symbol (glowing star) is also a big favorite, due to the fact that this can pay up to 250x (with five of these on the reels).
Also, it's the scatter that activates the free spin game. This is the most basic of bonus rounds, with players awarded 10 free spins and extra wild symbols added to three reels.
Shaman's Magic Slots and You
It's only natural for some players to like a slot machine, while others find that it comes up short.
Shaman's Magic is one of those games that players love or hate. If you enjoy simple to play machines that still pack a punch, you won't want to walk past this one.
Conversely, if you're seeking more action, better graphics, and advanced features, it's hard to say if it'll suit your style.
Our Shaman's Magic review is meant to give you the guidance required to make a playing decision. If you're on the fence, the last thing we can say is this: spin the reels a few times to see if the game does anything for you.
Aristocrat selected a cool theme, while also adding plenty of high paying symbols and a free spin game. If this is enough for you to get excited, it's time to find the game in a land based casino and see where it takes you!