One of the best things about Realtime Gaming (RTG) is the company's ability to develop online slots for every type of player.
For example, its Sevens and Stripes classic machine is the perfect solution for players who want a basic game that still offers many ways to win.
Conversely, you have those like Shark School slots that are packed full of features, offer more betting opportunities, and will always keep you guessing as to what will come next.
The Theme
We love sharks as much as the next person, but this isn't a game based on those scary fish that roam the ocean. Instead, it has a cartoon based theme that will have you laughing more than you cry (we hope so, at least).
Before we go any further, let us share a few interesting facts about sharks:
The scientific name for shark is
Most species live approximately 20 to 30 years in the wild.
The number of sharks in the wild is declining, due in large part to threats by natural predators, the environment, and humans.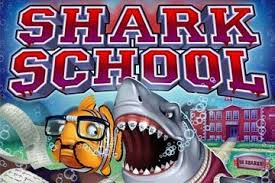 Okay, now that we have that out of the way, let's get on with the features of the game and benefits of playing.
Play the Shark School Slot Machine
The 5×3 reel grid is used by RTG with many of its internet based slot machines, meaning that most players are familiar with what it offers.
You can play anywhere from 1 to 50 paylines per spin, with a minimum wager of one cent per payline.
If you're feeling lucky, don't shy away from the maximum wager of $.25 per payline, for a total of $12.50 per spin.
Free is an Option
You can also play Shark School slots for free, which is the perfect angle if you're not permitted to bet real money in your country.
It's also a good approach for players who are more concerned with having fun than winning money. And of course, it doesn't hurt to spin the reels for free if you simply want to learn more about the game.
Note: Shark School is mobile friendly, allowing you to play direct from your tablet or smartphone.
Get Fishy
Reel symbols are everything you would expect. In addition to playing card values, you'll come across many symbols associated with ocean life.
For example, there is a fish with glasses and an octopus teacher that acts as a wild symbol.
Believe it or not, five of the same playing card symbols pay out 300 coins, which is more than many games with a similar setup.
As noted above, there is a wild symbol that adds to the excitement. By appearing on the first reel, you never know when this will come into play and help you form a winning combination.
The scattered symbol is the shark school, with this giving you the opportunity to trigger a 100x multiplier. Also, three or more of these take you to the pick bonus that allows you to choose from one of three games:
Swim Fishy Swim
Bad Sharky
Don't Eat the Teacher
Regardless of which one you select, you're in line for a multiplier and/or free spins.
Don't be Scared
It's only natural to be scared if you encounter a shark as you swim through the ocean. However, when playing Shark School online video slots, this is never a concern.
Instead of being worried about what's to come, you can look forward to the opportunity to win big base game payouts while activating a variety of bonus features. It's time for you to takeover the classroom!