The Silk Road refers to an ancient trade route that spanned many miles, connecting China to the Mediterranean Sea region.
While this doesn't have anything to do with slot machines, it's important to realize that the route was used to transport silk throughout the area. At the time, this was one of the most lucrative industries in the world.
Sticking with this theme, Silk Road slots use symbols such as ships and images of local traders.
Features and How to Play
We don't want to wait any longer to discuss the number one feature: Reel Power. This feature is used in many Aristocrat games, including 5 Dragons, and it gives you the opportunity to win with one of 243 combinations.
Adding to the excitement is the 3D graphics and soothing audio. This is what players have come to expect from Aristocrat slot games, and Silk Road definitely lives up to the hype.
With a minimum wager of $.01, you don't need a lot of money to play this game online or at a land based casino. For those seeking more action, the ability to wager up to 20 coins is enticing. When you work out the numbers, this means you can bet up to $500 per spin. Is that too rich for your blood?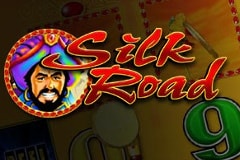 It's hard to imagine wagering so much on a single spin, but remember this: the top jackpot is set at 12,500 coins. All it takes is five Sultan symbols to pull down this huge payout. You don't have to make a max bet to win the jackpot, but it does improve your odds.
Now, let's examine some of the reel symbols and what they mean.
The lowest value symbols are the playing cards, which range from nine through ace. Others, however, hold much more value:
The Golden Ornamental Moth is the scatter.
The Silk Roll is the wild.
The nice thing about the wild symbol is that it can replace all others, with exception of the Golden Ornamental Moth, which instantly increase your chance of success.
Take it Easy with Auto Play
Playing a Silk Road game is a lot of fun, but if you plan on sticking around you may need a little help. This is where the Auto Play feature comes to the rescue.
It allows you to set the machine to automatically spin anywhere from 1 to 1,000 times. All you need to do is insert the appropriate amount of money, set the feature to match your requirements, and take a load off.
Bonuses
This is one of the most rewarding games on the casino floor, both in base gameplay and via bonus features.
The free spins feature leads the way, with this triggered when you collect a minimum of three Golden Ornamental Moth scatter symbols. Three of these award 10 free spins, while four is good for 15. Up your take to five and you'll receive the maximum of 20 free spins.
Tip: don't forget that you can retrigger this feature through the same means during a free spin.
The Silk Roll wild symbol also plays a big part, thanks to the way that it can multiply your winnings. If you land this symbol on the second reel of a winning combination, your payout is instantly multiplied by 3x. Find this symbol on the fourth reel and a 5x multiplier will boost your winnings.
Even better, if you make a winning combination with two wild symbols, the multiplier increases to 15x.
Talk about bonus power!
Play Online
Online Silk Road slot machines remain hot, thanks to the features listed above as well as the option to play with real money and for free.
The real money version will always be popular, as players dream of winning the 12,500 coin jackpot or activating the 15x multiplier.
The free version also attracts a lot of players, primarily those who are seeking a thrill but don't want to risk any cash. It's also a good choice for those who want to try their hand at a game before depositing real money. They see this as the perfect learning experience.
Have Fun with a Silk Road Slot Machine
With so many benefits to talk about, it's hard to pinpoint the primary reason to play this game. Most players enjoy the theme, the large jackpot, and the many bonus features. Throw in the graphics and 243 ways to win, and you can see why a Silk Road slot machine could soon become one of your favorites.