There is fantasy and there is reality. And then there are Sky Rider slots, a casino game that brings together the best of both worlds.
As a video slot machine by Aristocrat, you can expect this game to offer the best of the best in terms of graphics and audio. Add this to high level features, plenty of extras, and big payouts, and you have a game that is well worth playing.
Where to Play a Sky Rider Slot Machine
Known officially as Sky Rider Golden Amulet, this game can be found in many land based casinos throughout the United States.
For example, it's one of the most popular machines at Sky Ute Casino Resort in Ignacio, Colorado.
While this establishment is off the beaten path, you don't always have to travel out of your way to play. As an Aristocrat game, you won't have a hard time finding it at many of the top casinos in Atlantic City and Las Vegas. In many cases, it's side by side with other player favorites, such as More Chilli slots.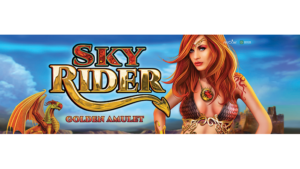 For those who don't want to leave home, you'll be glad to hear that Sky Rider slots can be played online.
With the ability to play with real money and for free, the online experience is one to consider.
If you live in a country where online gaming is legal, a real money machine may call your name. For others, there's nothing wrong with spinning the reels for free and enjoying every second of the action.
Important Game Details
As a 5-reel slot machine, Sky Rider is configured in the same manner as many other Aristocrat games.
Game symbols add to the high level of excitement, with each one based around the medieval theme.
There's nothing confusing about base gameplay, but you may find it boring if you aren't winning a lot of money. Fortunately, this never lasts long thanks to a variety of extra features.
For example, you have the opportunity to win free spins. Along with this, the Sky Rider logo acts as a wild. This replaces every other symbol, with the exception of the scatter, giving you more chances to win (and win big).
Sky Rider 2
Thanks to the popularity of the original game, Aristocrat decided to roll out a sequel.
Sky Rider 2 is even more exciting than the first version. It adds a handful of new features, along with Max Stacks.
According to the company, added features include Sky Rider Reels, Amulet Bonus, Dragon Wilds, Wheel Bonus, and free games. As if that's not enough, 5-level SAP jackpots have been thrown into the game.
Enjoy Your Experience
It doesn't matter if you're playing the original game or the sequel, you can't go wrong.
If you need added incentive to play, check out this video of a lucky player hitting for a win of almost 10,000 credits.
Sky Rider slots is a solid game from top to bottom. And remember this: if you like the original game, you'll fall in love with the second version.