Do you remember when Sons of Anarchy made its television debut on September 3, 2008?
Even if you weren't a big fan of this television series on day one, there's a good chance that it grew on you over the course of several seasons. By the time the show went off air on December 9, 2014, it was considered one of the top crime dramas of all time.
With that in mind, there's no wondering why Aristocrat decided to develop a land based slot machine on the TV series.
Soon after making its way to casinos in 2015, Sons of Anarchy slots gained the reputation for being a player favorite. And guess what? This holds true among people who are big fans of the show, as well as those who don't know the first thing about the plot or characters.
Things to Know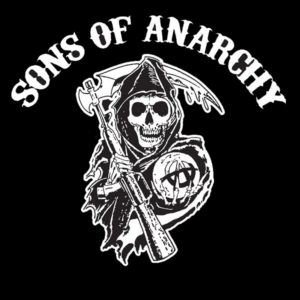 Aristocrat gets excited about every slot game it pushes to the casino floor, and this was no different with Sons of Anarchy. The company discusses the game in great detail on its website, offering the following information:
The use of Cluster Power, a new and innovative feature that helps players create more winning combos.
Big reel symbols, which helps with player engagement.
A $500,000 jackpot.
From a player's perspective, you'll fall in love with the use of the Verve cabinet and iChair. As you sit down and begin to spin the reels, it's hard to believe that you're playing a slot machine. It truly makes you feel like you're inside the television screen, next to your favorite characters (whether it be Jax, Gemma, Tara, or somebody else).
The Features
With a 6-reel, 60-payline configuration, it's easy to understand what you're looking at as you play a Sons of Anarchy slot machine.
However, some players do find it difficult to catch onto the Cluster Power feature. Even so, don't let this scare you away. Once you become familiar with how it changes the game, you're sure to agree that it's for the better.
Adding to both a scatter and wild feature, there is a no limits re-spin bonus game that quickly takes the action to the next level. When you collect one of the large characters on the screen, he or she remains in place while the other reels spin again. This doesn't guarantee a big win, but don't be surprised if your account grows.
Triggering the popular Wheel Bonus is as simple as collecting 3+ Grim Reaper symbols, regardless of position. It's here that you can win one of the four progressives, which include:
Even if you don't win a jackpot, you can still secure up to 100 free spins.
TV Show Facts and Figures
Big time Sons of Anarchy fans know everything about the show. Others, however, may not have much knowledge. Here are some basic facts and figures to keep in mind:
Sons of Anarchy was on the air for seven seasons.
The show was aired on FX.
During the third season, it averaged 9 million viewers per week, which made it the highest rated FX series of all time.
The show and its actors/actresses were nominated for and won many awards.
These details don't have anything to do with playing the slot game, but they should at least provide you with some background information on the show.
Playing a Sons of Anarchy Slot Machine
At SlotsJack, we've long been a fan of everything Sons of Anarchy. For this reason, it's only natural that we'd fall in love with the slot machine as well.
It's not the right game for every player, but we enjoy the fact that it's a good fit for those who love the show as well as those who have never watched a single episode. In much the same way as South Park slots, whether or not you enjoy this game is based largely on preference.