Net Entertainment hit the nail on the head when it developed and released South Park slots.
Based on the television series that kicked off in 1997, this casino game brings players big time laughs, exciting features, and the potential to win gobs of money.
Much the same as Family Guy slots, another cartoon based machine, the theme of this game is enough to attract millions upon millions of players. However, it's the finer details that keep players engaged and coming back for more.
What You Need to Know
Once you get past the theme, you'll need to learn a few things about playing a South Park slot machine.
Net Entertainment shares a high level overview of the game, noting the following details:
5-reel, 25-payline slot game.
Variety of extras, such as: bonus games, sticky wilds, wild substitutions, and free spins.
Bonus games based on your favorite characters, including Kenny, Stan, Kyle, and Cartman.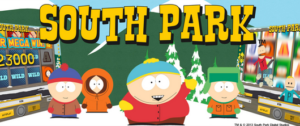 As you play the game, you should expect nothing but the highest quality sound and animation. In other words, you'll feel like you're watching your favorite episode on your high definition television.
With coin values ranging from a single penny to $.50, South Park slots suit the budget of many players. But here's what you really want to know: with all 25 paylines activated, the top payout is 1,250,000 coins. Can you imagine what it would feel like to hit for that much money on a single spin of the reels?
The Bonus Games
Base gameplay is full of thrills, but the bonus games are when you will really fall in love with South Park.
Take for example the Cartman bonus game. As you get started, you're prompted to spray the bushes on the screen with hopes of uncovering the hidden hippies.
Each time you find a hippie your account is credited. If you're lucky enough to find two in the same place, your winnings are doubled.
There are many other special features to watch for, such as the ever popular Mr. Hankey mini feature.
When Mr. Hankey appears on the reels, it means that the next spin will have several wilds included. This greatly increases your chance of not only winning, but taking home a nice payout.
Play a South Park Slot Machine Online
If you decide to have some fun with the entire gang, there are a few things you first need to know.
First off, are you playing for free or with real money? The game is the same either way, but your approach may change.
Once you make this decision, it's time to spin the reels. Here are a few things that will allow you to easily navigate this game:
Bet level: this sets the number of coins you want to wager per payline.
Maximum bet: use this button if you want to wager the highest level of coins.
Coin value: select the denomination of the coins.
Now that your preferences are selected, all you have to do is hit the "spin" button and wait for big things to happen.
The Popularity of South Park
Any show that has been on the air for as long as South Park must have something special going for it. It may not be the type of show that everyone enjoys, but there's no denying its popularity.
Here are some facts about this animated sitcom:
The show was created by Matt Stone and Trey Parker.
267 episodes aired over the first 19 seasons.
South Park has received many awards, including five Primetime Emmy Awards.
Although controversy often surrounds the show, it continues to be one of the most popular on television. With so much success, it's safe to assume that it will remain on the air well into the future.
Final Thoughts
There are many games based on television shows, with South Park slots by Net Entertainment one of the best.
It offers everything you would expect in terms of graphics and audio. When combined with several betting options, plenty of bonuses, and a top award of 1.25 million coins, it's easy to see why it's a popular online slot game.