A Video Gaming Technologies (VGT) machine that will turn your head, Star Spangled Sevens slots has long been a player favorite.
Similar in more ways than one to Mr. Money Bags slots, you can expect many players to run for this machine the second they make their way inside a casino.
It's hard to overlook this game, as the machine itself is decked out in red, white, and blue. In fact, if you only take a quick glance, it appears to be a flying American flag. How cool is that?
Game Details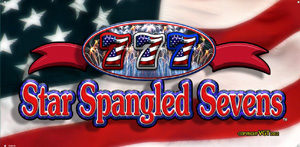 You don't need any knowledge of a Star Spangled Sevens slot machine in order to play, however, it always helps to collect some background information before pulling the lever.
To start, this is part of VGT's well known lineup of three reel mechanical machines. It doesn't have the same advanced graphics and audio as modern video slots, but that doesn't mean it lacks anything in terms of action and excitement.
To go along with a two coin maximum wager, Star Spangled Sevens is equipped with a single payline and three reels. This is a simple and traditional setup, which allows players of all skill levels to settle in for a good time.
With a minimum denomination of $.25, this machine sets up perfectly for those who want to stretch their budget. But there are other options to consider: $1, $2, $3, and $5.
A maximum payout of 10,000 credits is just one of the many reasons why players will park themselves at this game for hours on end, hoping that they eventually hit it big.
Spinning the Reels
We've discussed the basics of this machine. Now, it's time to learn more about how to play.
Much like many VGT games, the reel symbols are traditional. These include one bar, two bars, and three bars. Sticking with the theme of the game, you'll also come across red, white, and blue seven symbols. And of course, there is a Star Spangled Sevens logo that plays a prominent role.
Spotting a winning combination is easy. All you need to do is collect three of the same symbols on the payline.
Free Spins Galore
Base gameplay is exciting, but there are additional features that make Star Spangled Sevens more enjoyable. One such feature is the Red Screen Free-Spin bonus.
Awarded randomly, you never know when you'll find yourself with a few free spins to your name. Best yet, you don't have to do anything to take advantage. Sit back, watch the reels spin automatically, and hope for the best.
While nothing is guaranteed, there are many stories out there of people winning between $500 and $1,000 during the free spin round.
Just like all slot machines, you never know what's going to happen next. Even so, if you sit at this game long enough, you'll eventually get your crack at some free spins.
More Bonus Games
Everybody wants to spin the reels on the house, but don't forget about the Bonus Blast games that give you the opportunity to win even more money.
Pick a Safe is an example of a bonus game that could be included on a Star Spangled Sevens slot machine. Other player favorites include Winning Wheel, Lucky Pluck, and Pick a Pot.
Even though all eight Bonus Blast games, Red Screen Free-Spin included, share many of the same attributes, each one is unique enough to provide a special experience.
You never know when you'll enter one of these bonus rounds, so all you can do is play and wait. Your time will come at some point, and when it does you know you're in for some serious smiles.
Places to Play Star Spangled Sevens Slots
VGT provides slot machines to the Class II market, meaning you won't find this game in Las Vegas, Atlantic City, or other similar gaming cities. That said, there are hundreds of casinos across the country that offer this slot game among many others. Here are some of the best:
Cimarron Casino, located in Perkins, Oklahoma, is one of the best for VGT games. It is home to more than 600 machines, some of which include Star Spangled Sevens, Mr. Money Bags, and Lucky Ducky among others.
As long as the casino offers VGT games, there is a good chance that you'll come across a batch of Star Spangled Sevens slots. Choose the one that looks best to you and take a seat.
Reasons to Select this Game
With so many titles to choose from, it's hard to say what makes one VGT game better than the rest. In many cases, this all comes down to a matter of preference.
Maybe you have won big at a certain game in the past. If so, you'll probably gravitate towards it in the future. Or maybe you've fallen in love with a particular theme, thanks to the reel symbols and colors. Again, this may be enough for you to take a closer look.
If you need a few good reasons to play a Star Spangled Sevens slot machine, here's a few to chew on:
The patriotic theme, combined with the color scheme, is among the most unique on the casino floor.
You can wager anywhere from $.25 to $5.
A 10,000 credit jackpot.
Plenty of bonus features, including free spins.
These reasons should be enough to play, but you can't take anyone's word for it. You have to spin the reels for yourself and experience the thrill of winning. Only then can you decide if it's a game that you would consider one of your favorites.
This Review is Just the Start
This Star Spangled Sevens slot machine review is a great start for those who have never played the game. It's also helpful if you have spun the reels in the past and are seeking some information, tips, and playing advice.
But remember this: a review is not enough for you to totally understand how a slot machine works. This holds true with Star Spangled Sevens, as well as any other game.
At SlotsJack, we want you to understand that this VGT game is among the best. We also want you to consider playing yourself, as this is the best way to see what it has to offer.
We'll leave you with a few questions that can help you decide if Star Spangled Sevens slots is a good choice for you:
Do you enjoy slot machines that come equipped with a variety of bonus games, such as a free spin round?
Are you interested in games that have a variety of betting denominations?
Are you familiar with casinos that offer VGT slot games?
Once you answer these questions, there won't be much gray area in regards to what you do next. You should have a clear idea of what a Star Spangled Sevens slot machine is all about and why a few spins could be an experience you remember for a very long time.